Transforming Offender Rehabilitation
Issued: Fri, 06 Jun 2014 10:25:00 BST
A University of Glasgow-led project based on pioneering research examining how offenders move away from crime were runners up for a major national award from the Economic and Social Research Council (ESRC) for its impact on public policy. The project and its legacy are transforming the practice of offender rehabilitation in the UK and beyond.
The Desistance Knowledge Exchange (DesKE) project formed part of an extensive programme of research within the Scottish Centre for Crime and Justice Research and was led by Professor Fergus McNeill, who works in the Centre and is Head of Sociology at the University of Glasgow.
"I can say with confidence that research into desistance from crime has significantly impacted on both policy and operational practice, and is shaping the culture and service delivery models of providers across all aspects of offender services." Ian Poree, Director, Rehabilitation Programme, Ministry of Justice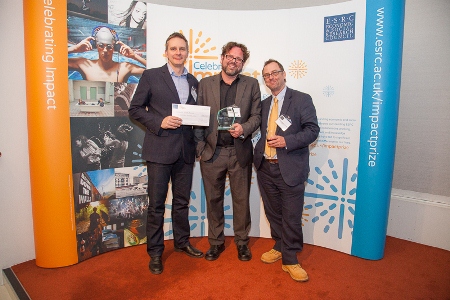 The team behind the Desistance Knowledge Exchange (DesKE) also included Professor Stephen Farrall (University of Sheffield) and Professor Shadd Maruna (Queen's University Belfast). Although all three professors are widely acknowledged to be leading researchers on 'desistance' from crime (how criminals can leave crime behind), Professor Maruna insists that the real experts in how individuals stop reoffending are ex-offenders themselves. "In the same way that if you wanted to lose weight you would consult the successful slimmers that you know, we argue that if you want evidence-based practice in rehabilitation, it makes sense to learn from those who have successfully moved away from lives of crime."
Building on the knowledge exchange expertise of Dr Claire Lightowler (formerly of the Institute for Research and Innovation in Social Services and now Director of the Centre for Youth and Criminal Justice at the University of Strathclyde), the team worked with ex-offenders, families, practitioners and policymakers to draw out the common threads from many individual success stories - helping to create and interpret a new body of rehabilitation evidence that is changing policy and practice in criminal justice.
Based on this research, a high-level organisational review in the Scottish Prison Service has transformed its approach, reframing the service's core task as 'Unlocking Potential, Transforming Lives'. At the local level, the DesKE team helped to establish the Wirral Desistance Project which brought together probation staff and probationers to explore what was and was not working in the rehabilitation process. Replacing the term 'offender' with 'service user' proved a key early step in a string of successful changes to probation practice.
The start-up of a new charity running music projects for Scottish prisoners was also inspired by a DesKE workshop. "Initiatives like this can help spark the process of working towards changing lives," Professor Fergus McNeill explains.
As a result of these changes in policies and services – and perhaps more fundamentally by changing the ways that practitioners think about and do their work - the project has been changing how rehabilitation is done with people, not to them, so that positive lives can be built.
Impact
The DesKE team's 'desistance framework' is now a dominant conceptual model within offender rehabilitation policy and practice in England and Wales.
The model has also made a substantial impact in Scotland, Northern Ireland, Chile, Singapore and the United States, where the US Department of Justice has recently funded a large-scale pilot test of the desistance model.
Desistance research is cited in the UK Ministry of Justice's 2011 Green Paper, and provided the National Offender Management Services (NOMS) with research evidence for its new practice skills model for probation.
As a result of the research and associated seminars and workshops, Merseyside Probation has convened a Desistance Planning Team (2014) and Avon and Somerset Probation Trust recruited a dedicated Desistance Development Officer (2013).
The free download film Road from Crime (2012), which outlines key research findings and practical applications, has been subtitled in six languages and viewed more than 10,000 times – including screenings to the Probation Chiefs' Association Conference 2013.
Find out more
School of Social and Political Sciences
---
Media Enquiries: cara.macdowall@glasgow.ac.uk 0141 330 3683
The ESRC Celebrating Impact Prize, now in its second year, is an annual opportunity to recognise and reward the successes of ESRC-funded researchers who have achieved, or are currently achieving, outstanding economic and/or societal impacts. The prize celebrates outstanding ESRC research and success in collaborative working, partnerships, engagement and knowledge exchange activities that have led to significant impact. www.esrc.ac.uk/impactprize