University of Glasgow's inaugural Singaporean graduations mark a 562-year first
The University of Glasgow held its first graduation ceremony outside of Scotland in its 562 year history on Friday 18 October 2013.
80 Singaporean students received their scrolls in a special ceremony to mark the first cohort of students to complete the Honours programmes run in collaboration between the University of Glasgow Singapore (UGS) and the Singapore Institute of Technology (SIT).
They are the first recipients of the BEng Mechatronics and BEng Mechanical Design Engineering degrees. Both the Mechatronics and Mechanical Design Engineering programmes are taught over two Honours years, with part of the summer vacation spent in Glasgow.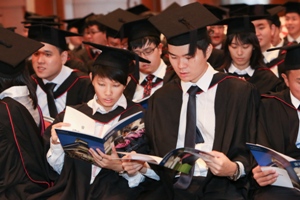 The University of Glasgow has been developing collaborations with SIT since 2010 and now offers five undergraduate degree programmes in total, having started enrolling students for Aeronautical Engineering, Aerospace Systems courses in Singapore in 2012 and Computing Science in 2013.
Professor Anton Muscatelli, Principal and Vice-Chancellor of the University of Glasgow also announced the launch of a new programme of postgraduate scholarships to develop the next generation of world-class engineers and computing scientists.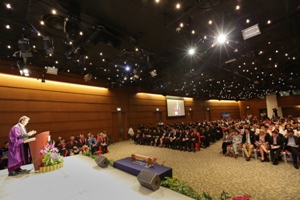 The Industrial Postgraduate programme, run in collaboration with the Economic Development Board of the Singapore Government, will place approximately 50 PhD students over five years with companies based in Singapore. The scheme will offer students the opportunity to provide postgraduate training in a research and development environment with the aim of extending knowledge exchange and partnership possibilities.
Professor Anton Muscatelli said: "This is a landmark day in the 562-year history of the University of Glasgow as it is our first graduation ceremony to take place outside of Scotland. I'm pleased to be celebrating it with our very first cohort of students from the BEng Mechatronics and BEng Mechanical Design Engineering.
"With the launch of the new Industrial Postgraduate Programme, the University of Glasgow now has a stronger presence than ever within Singapore's educational landscape and this scheme will continue to grow this by actively seeking collaboration and partnerships with academic institutions, industries, government agencies and other major stakeholders.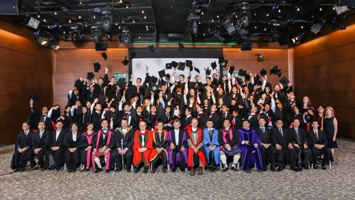 "Through our existing undergraduate and forthcoming postgraduate programmes, the University of Glasgow is now committed to supporting students from undergraduate level right through to PhD and beyond."
Professor Tan Thiam Soon, President, SIT said, "Our Mechatronics and Mechanical Design Engineering students have done very well and most have graduated with a high honours.
"The University of Glasgow is a valuable partner to us and we have enjoyed a fruitful partnership so far. Their close attention to student care and academic rigour is praise-worthy and our students have benefitted greatly from this. We look forward to evolving and strengthening our partnership with University of Glasgow as SIT becomes an autonomous university in the future."
---
For more information please contact the University of Glasgow's Media Relations Office on media@glasgow.ac.uk or on 01413303535.
About Singapore Institute of Technology
Established in 2009, SIT is an institution funded by the Ministry of Education offering undergraduate degree programmes primarily for polytechnic graduates. In partnership with various reputable overseas universities, SIT has brought to Singapore some of the world's top industry-focused degree programmes targeted at growth sectors of the economy.
Through a unique tripartite collaboration with its overseas university partners and the five local polytechnics, SIT represents a new model that is set to become a key pillar of university education. SIT has been slated to become the fifth public university in Singapore by the Government.
To find out more about SIT, visit singaporetech.edu.sg.
First published: 21 October 2013