New Interim Chief Executive Officer for Sensor Innovation Centre
Published: 16 October 2013
CENSIS, the world leading sensor and imaging systems centre which is based at the University of Glasgow, has appointed David Clark as interim Chief Executive Officer.
CENSIS, the world leading sensor and imaging systems centre which is based at the University of Glasgow has appointed David Clark as interim Chief Executive Officer.
The Scottish Funding Council announced support of £10M over the next five years when the centre was formally unveiled in May, with the aim of encouraging collaboration between industry and academia. Twelve Scottish universities and 22 industry partners are involved with the CENSIS project.
Sensor systems play an increasingly ubiquitous role in modern life. Mass-produced sensors are found in every modern automobile, for example, and in many mobile electronic devices for purposes such as noise cancellation and navigation. Estimates place the number of wireless connected devices currently in use around the world at 10 billion, with projections suggesting the number will reach 50 billion within 10 years. Specialist high-value sensors and imaging systems are routinely used in scientific equipment oil and gas recovery, machine tools, and environmental monitoring. In medical equipment, imaging sensors can facilitate early medical interventions by screening for disease even before symptoms become apparent.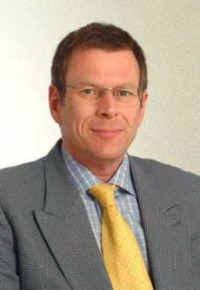 David Clark is a highly experienced business and technology leader in the field of high performance sensors, imagers and laser equipment and systems. He joins CENSIS from Thales Optronics where he was the Technical and Product Management Director with both UK and worldwide business responsibilities. David also holds the position of Visiting Professor at the University of Strathclyde's Institute of Photonics.
CENSIS, the Centre for Sensors and Imaging Systems, is a multi million pound initiative which will engage in industrially collaborative projects to develop new technologies and form links with industry to bring innovative products to market. 12 Scottish universities and 22 industry partners are supporting CENSIS.
Bob Downes, Chair of CENSIS said: "We are very fortunate to have David join us on an interim basis while the centre seeks a permanent CEO. He brings a wealth of experience and specialised knowledge in sensors, imaging systems and business. We look forward to working together to take CENSIS into its next stage of development."
Dave Clark, New Interim CEO said "I am delighted to play this key role with CENSIS. I look forward to working closely with the team to determine the key priorities and associated actions to deliver the first stages of the Operating Plan. Once these are in place, we can aim high in our business objectives".
Sensor and Imaging Systems is a key enabling technology to achieve quality, efficiency and performance across all key markets - transport, defence, oil and gas, agriculture, built environment, life sciences, and food and drink.
CENSIS will deliver against objectives to:
Be a beacon for economic development, combining the skills, knowledge and expertise of all the partners and working across traditional supply chains.
Accelerate the transfer of SIS technologies from the science base to industry through collaborative R&D and knowledge exchange from industry-defined projects.
Align university research with longer term, strategic opportunities for innovation, tackling wider knowledge gaps identified by the market.
Stimulate a more entrepreneurial and innovation-driven culture amongst research and industry, through the provision of secondment opportunities, and training programmes.
Integrate communities of researchers and industrial innovators across the supply chain with networking activities designed to encourage collaboration.
CENSIS will deliver 150 collaborative research and development projects and bring new products to market over the course of its initial 5-year funding period. Economic projections suggest an investment of £10m from SFC will encourage industry to invest in innovation.
---
For more information contact Cara MacDowall in the University of Glasgow Media Relations Office on 0141 330 3683 or email cara.macdowall@glasgow.ac.uk
First published: 16 October 2013