Hunterian reopens with Rembrandt and the Passion exhibition
Nine months after closing for refurbishment, the Hunterian Art Gallery at the University of Glasgow has reopened with a landmark exhibition.
'Rembrandt and the Passion' offers visitors an opportunity to see one of The Hunterian's most famous paintings, Rembrandt's 'Entombment Sketch', alongside a number of key international loans, including masterpieces never seen before in Scotland.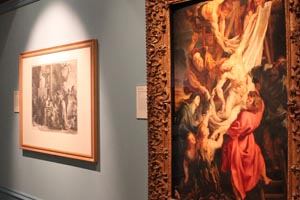 Featuring around 40 works, 'Rembrandt and the Passion' tells the story of the 'Entombment Sketch' and explains how it relates to one of the most significant commissions of Rembrandt's career - a series of paintings of the Passion of Christ, produced for the Prince of Orange between 1632 and 1646.
Exhibition curator, Peter Black, said: "This exhibition really tells a story; it brings together examples of Passion paintings and drawings in order to show how Rembrandt developed our 'Entombment' painting. There are interesting relationships with works by his contemporaries. We also know in detail about the contents of the artist's house in 1656, and this tells us for example in which room our painting was hanging at that moment. He kept it in his living room, so probably it was a work he was still thinking about."
For the first time ever, the exhibition displays the 'Entombment Sketch' alongside the finished 'Entombment' painting from Rembrandt's famous series, on loan from the Alte Pinakothek in Munich. Other important loans include Rembrandt's drawing 'The Entombment after Mantegna' from The Metropolitan Museum in New York and Rubens' 'Sketch for the Descent from the Cross' from The Courtauld Gallery in London.
The exhibition will also include the results of recent x-ray and pigment analysis on the 'Entombment Sketch', which breaks new ground in scholarly research.
The Art Gallery is reopening to the public after closing in January for extensive renovations. The overhaul has allowed for a complete redisplay of the permanent collection, significantly increasing the number of works on show. From this Saturday the public will once again be able to access the internationally renowned works owned by The Hunterian, including the world's largest display of the works of James McNeill Whistler and a rich collection of Scottish art from the 18th century to the present.
Director of the Hunterian, Professor David Gaimster, said: "Creating this special exhibition at The Hunterian is a great way to mark the re-launch of our art collections. 'Rembrandt and the Passion' is one of the most significant exhibitions to be held here in our 200 year history. It offers a unique opportunity for researchers and members of the public to study these world-famous works together and at first-hand."
---
More information on the exhibiton is available of the Hunterian's exhibiton webpages.
You can read some of the coverage of the exhibition opening:
http://www.bbc.co.uk/news/uk-scotland-glasgow-west-19597746
http://news.stv.tv/scotland/190361-rembrandt-exhibition-reopens-refurbished-hunterian-gallery/
First published: 17 September 2012