Blast off for the Glasgow Science Festival 2012
This year's Glasgow Science Festival is ready for launch, featuring a packed programme of events, aimed at adults, children and families, taking place throughout June. This year the festival promises to be bigger than ever with more than 80 events taking place in 30 venues around Glasgow.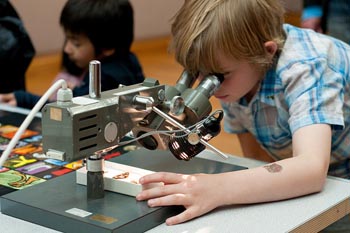 The festival will run for two weeks, culminating on 17 June, and will include live shows, talks and demonstrations in various locations across the city, including the Science Centre, the Riverside Museum and the Pearce Institute in Govan.
The Glasgow Science Festival will showcase Glasgow's contribution to the world of science and technology throughout history and right up to the present day. The schedule of events will allow people of all ages to meet robots, reptiles and real life researchers; explore the cosmos, coral reefs and the brain; and question biologists, chemists and astronauts.
The first event on the calendar is an all-night celebration of the Transit of Venus across the sun on 5 June. This is a rare event that happens only once every 243 years and holds tremendous historical significance, helping eighteenth century astronomers discover the true size of the universe.
Then, on 10 June, the University of Glasgow's own Science Sunday extravaganza will offer people of all ages the chance to get hands-on with some of the world leading research happening at the University of Glasgow, featuring exotic animal handling, alien species investigation and one-off science shows and workshops.
Alongside the schedule of public events, the Science Festival will also be running a School's Programme, aimed at children of all ages. This will introduce young people to scientific concepts ranging from astronomy to zoology and include live shows, IMAX films, participatory workshops and time in a laboratory.
Dr Deborah McNeill, Director of the Glasgow Science Festival said: "Glasgow is well known for its long and rich science and engineering heritage. The city has been home to a long list of world-changing scientists, including Lord Kelvin, James Watt and Alexander Fleming. Glasgow Science festival aims to celebrate this history and showcase the incredible range of talent working in the City today. We hope people will join us and meet some of these men and women, find out more about their work and how it will help to shape the world of tomorrow."
Full events listings and more information can be found at: www.glasgowsciencefestival.org.uk
---
For more information, please contact Nick Wade in the University of Glasgow's Media Relations office on 0141 330 7126 or at nick.wade@glasgow.ac.uk
First published: 28 May 2012