Studies reveal protein's role in coronary heart disease and treatment possibilities
Issued: Thu, 15 Mar 2012 10:00:00 GMT
Two international studies published by The Lancet have uncovered new evidence that a particular protein plays a significant role in the development of coronary heart disease (CHD).
The studies revealing the role of interleukin-6 receptor (IL6R), a protein involved in inflammatory signalling, pave the way for the use of drugs targeted at this pathway to prevent CHD.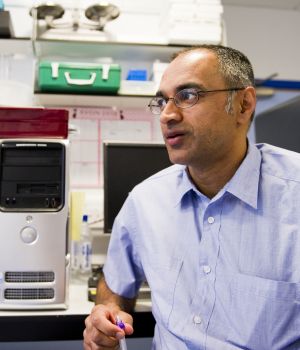 One drug that already targets IL6R is Tocilizumab which is used to treat rheumatoid arthritis.
Professor Naveed Sattar, of the Institute of Cardiovascular and Medical Sciences at the University of Glasgow and one of the senior authors in one of the studies, said: "This work, which represents excellent collaborations between many researchers, is really exciting as it provides perhaps the first strong piece of evidence suggesting inflammatory processes may well be causing heart disease rather than simply being bystanders.
"The clinical value of this knowledge is that it provides a rationale to test new drugs which block inflammation pathways as novel ways to lessen heart disease."
The PROSPER study, which was led by Glasgow, played a key role in the research with important input from Professors Ian Ford, Naveed Sattar and Dr Paul Johnson.
CHD is a major cause of death throughout the globe and is caused by the build-up of fatty materials on artery walls.
The role of inflammation in CHD has been studied but never before has a direct causal link with a specific inflammatory biomarker been found.
However, in the studies featured in The Lancet, the IL6R Genetics Consortium and Emerging Risk Factors Collaboration report on a genetic variation in IL6R which reduces inflammation and the risk of heart disease consistent with the effect of drugs to block the action of IL6R in rheumatoid arthritis.
---
For more information contact Stuart Forsyth in the University of Glasgow Media Relations Office on 0141 330 4831 or email stuart.forsyth@glasgow.ac.uk
Further information
Both papers can be found here:
http://www.thelancet.com/journals/lancet/article/PIIS0140-6736(11)61931-4/abstract
http://www.thelancet.com/journals/lancet/article/PIIS0140-6736(12)60110-x/abstract

Article author contacts:
Article 1: Dr Adam Butterworth, University of Cambridge, Cambridge, UK.
T) +44 (0) 1223 741 302 E) asb38@medschl.cam.ac.uk
Article 2: Dr Daniel Swerdlow, University College London, London, UK.
T) +44 (0) 7708 757066 E) d.swerdlow@ucl.ac.uk
Comment: Dr Matthijs Boekholdt, Academic Medical Center, Amsterdam, The Netherlands.
T) +31 20 566 6612 E) s.m.boekholdt@amc.uva.nl