University of Glasgow unveils £2.65m electron microscope
Issued: Wed, 27 Jun 2012 15:24:00 BST
Scientists at the University of Glasgow have acquired a world-leading electron microscope which will allow them to scrutinise individual atoms and probe their chemical, magnetic and electronic properties with unprecedented detail.
The £2.65m MagTEM microscope was officially unveiled today (Monday 2 July) by Dr Alasdair Allan, the Scottish Government's Minister for Learning, Science and Scotland's Languages, at an event held in the University's Kelvin Building. The event was also attended by guests including representatives from JEOL, the microscope's manufacturer, international guest speakers and industrial collaborators from across the UK.
The microscope is one of a select number worldwide and has been further customized for improved resolution, making it unique. It is the latest addition to the University's Kelvin Nanocharacterisation Centre, which is home to a range of equipment that allows researchers from across the physical sciences and engineering disciplines to create and examine materials on the atomic scale. Research from the centre has contributed to the development of a wide range of products, particularly in microelectronic and data-storage applications.
Dr Allan said: "This is a unique piece of equipment that will help to keep Scotland at the cutting edge of science research. Glasgow's international partnership with JEOL will benefit several of our universities through SUPA, the Scottish Universities Physics Alliance. The device also has the potential to be useful to industry, strengthening the links between academic research and businesses seeking to compete more effectively in today's global market."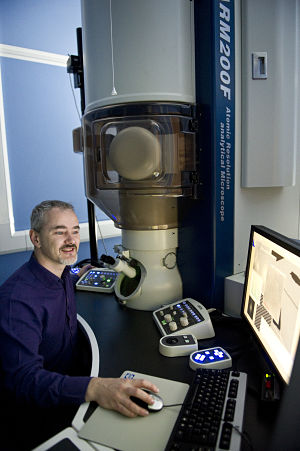 Unlike traditional microscopes, which use visible light to magnify objects for examination, electron microscopes instead use a concentrated beam of electrons to produce their images. Electrons have a much shorter wavelength that the photons which comprise visible light, making it possible to resolve images at much greater magnification. Modern electron microscopes also allow scientists to examine other properties of materials including their structure, composition, chemistry and magnetism.
Prof. Alan Craven, of the University's School of Physics and Astronomy, said: "The advances made in the field of electronic engineering in the last few decades have been staggering. The smartphones in our pockets are millions of times faster than the bulky desktop computers of only a few years ago, for example.
"However, the drive to make devices smaller and faster has led manufacturers to push their technical abilities to the absolute limits. As the scale of engineering decreases to where connections can be a handful of atoms wide, the need for advanced microscopy becomes more urgent to facilitate understanding of why a material or device succeeds or fails.
"We worked closely with JEOL to incorporate some bespoke features in MagTEM which make it unique. The new microscope will allow us to resolve a much greater level of detail than we have been able to in the past and offer invaluable support for the next generation of technology development. In studies of the types of magnetic materials commonly found in computer hard disk drives we will be able to see magnetic details in materials around 10 smaller and examine nanoscale events occurring in spans of time more than one million times faster than before."
The Glasgow team expect to use the MagTEM microscope to help commercial partners develop and refine technologies including stronger forms of steel for the automotive industry, sensor systems and hard disks. The MagTEM's magnetic imaging capabilities will allow it to image the operation of magnetic devices such as hard disks below the dimensions of individual storage bits, a process which no other electron microscope in the world is currently capable of doing.
In the future, the microscope's applications could also lead to breakthroughs in 'spintronics', where the intrinsic spin of an electron is manipulated in addition to its charge, and multiferroic materials, whose independent magnetic and electrical properties could be used to store data as the values '0', '1', '2' and '3' instead of the increasingly limited binary '0' and '1' states of conventional technology.
The acquisition of the MagTEM microscope was funded by the Scottish Funding Council and the University of Glasgow. MagTEM is part of the EPSRC National Facility for Aberration-Corrected Scanning Transmission Electron Microscopy, which is managed by a consortium consisting of the Universities of Glasgow, Leeds, Liverpool, Manchester and Oxford. It supports a wide variety of multi-disciplinary research by providing access to cutting-edge instrumentation and state-of-the-art data analysis as well as expertise and training in electron microscopy.
---
ENDS
For more information contact the University of Glasgow Media Relations Office on 0141 330 3535 or email media@glasgow.ac.uk