University of Glasgow creates world's smallest Chinese New Year card
It is so small that it cannot be seen by the naked eye – but a tiny Chinese New Year greetings card created by the University of Glasgow represents the huge potential for China to profit from Scottish innovation.
The card was produced by experts from the University's James Watt Nanofabrication Centre to showcase their world-leading expertise in nanotechnology ahead of Chinese New Year celebrations, which begin on Monday 23 January.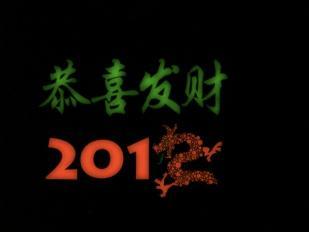 The card expresses warm wishes for health and prosperity during the Year of the Dragon from Scotland to China, and is also an invitation for collaboration and partnership in cutting-edge technology between the two countries.
The card is 300 micro-metres wide by 200 micro-metres tall (a micro-metre is one-millionth of a metre). It is so small that 21,600 of them could fit on an area the size of the China Post's 36mm-by-36mm 2012 Chinese New Year commemorative stamp. The Chinese characters are just 45 micro-metres tall, and the dragon is just 116 micro-metres long. By comparison, the width of a human hair is about 100 micro-metres.
Professor David Cumming and Dr Qin Chen from the University's School of Engineering etched the Chinese characters and dragon image onto a very small piece of glass. The manufacturing process took just 30 minutes.
Professor Cumming said: "The future applications of nanotechnology are vast, but the nature of nanotechnology can be difficult to express to the public. Making this Chinese New Year card was a simple way to show how accurate our technology is.
"The colours were produced by plasmon resonance in a patterned aluminium film made in our James Watt Nanofabrication Centre. The underlying technology has some very important real world applications in bio-technology sensing, optical filtering and light control components, and advances in micro and nanofabrication for the electronics industry.
"All these applications are critical in the future development of the digital economy and the emerging healthcare technology markets. Within a home environment, this technology could eventually find its way into cameras, television and computer screens to reduce the manufacturing cost."
The card was developed in conjunction with Scottish Development International (SDI), Scotland's international trade and investment body.
SDI Chief Executive Anne MacColl said: "Nanotechnology is just one area in which Scotland is considered a world leader. From renewable energy to life sciences, digital media to ICT and education to financial services, Scotland has a wealth of expertise, skilled people and knowledge.
"Chinese firms can gain a competitive edge by partnering with Scottish universities and companies across these critical high growth sectors. Innovation is key to China's economic development and SDI's offices in Beijing and Shanghai are on hand to help Chinese universities and firms learn more about the benefits of international partnership."
Many examples of collaboration between Scotland and China exist today, particularly in the field of innovation-based research and development. Four mainland Chinese companies are investors in Scotland and a number of Scotland's world-leading universities have research partnerships and joint ventures in place with Chinese academic institutions and corporations. Scotland's First Minister recently made his third visit to China in two years, underpinning Scotland's commitment to growing business and academic links with China even further.
---
ENDS
For more information contact Ross Barker in the University of Glasgow Media Relations Office on 0141 330 8593 or email ross.barker@glasgow.ac.uk
First published: 19 January 2012