New project to uncover Scotland's lost Latin past
Work has begun on new research that will shed light on a lost part of Scotland's cultural heritage.
The 'Bridging the Continental Divide' project has been awarded over £400,000 from the Arts and Humanities Research Council (AHRC) to translate parts of Scotland's only anthology of neo-Latin renaissance poetry.
The study, led by historians and classicists at the University of Glasgow, will investigate exactly what role Latin played in the severe culture of Protestant moral and social discipline in Jacobean Scotland. Academics hope it will lead to new insights into Scottish culture and society in the early seventeenth century.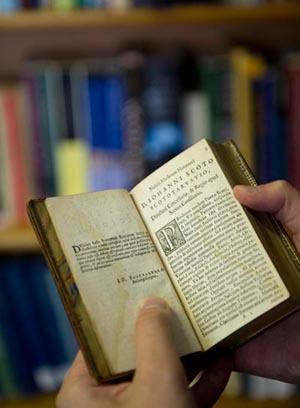 ‌The Delitiae Poetarum Scotorum is a compilation of religious, political and cultural texts from the Jacobean period, and is considered one of the most important Latin books Scotland has ever produced. Published in 1637 in Amsterdam, it represents the highpoint of Scottish neo-Latin renaissance culture and offers a unique view of Scottish politics, religion and society.
Scotland was unusual among European nations for the extent to which it continued to use Latin in academic and 'elite' culture well into the eighteenth century. Alongside legal and academic uses, the Delitiae Poetarum Scotorum shows that it was used by poets from a range of religious and political backgrounds who incorporated classical and pagan styles into their work which stood in opposition to the narrow Protestantism of the post-Reformation era.
Researchers based in Scottish History at the University of Glasgow will painstakingly scan and translate just over a third of the 1,272 page anthology to produce a free online resource that will be fully searchable by scholars. The team will also produce a website where both specialist and 'lay' audiences can learn more about the role that Latin played in Scottish society, and will take the texts 'on tour' with a series of public readings around Scotland of the Latin text and translations.
Dr Steven Reid, Lecturer in Scottish History, and project leader, said: "We really hope that this project can contribute to a shift in perceptions around the culture of early modern Scotland and shed some light Scotland's literary 'lost continent'.
"The poems in this collection are very interesting because they all use Latin as a mode of expression regardless of the author's religious or political leanings. One of the major aims of this project is to explain the paradox of why neo-Latin culture seems so at odds with the narrowly Protestant society that Scotland was in the early seventeenth century, and why it produced documents like this wonderfully rich and exciting collection."
---
For more information please contact Nick Wade in the University of Glasgow Media Relations Office:
Tel: 0141 330 7126 - Mob: 07837 097 159 - nick.wade@glasgow.ac.uk
First published: 1 August 2012