Funding boost for Ultrafast Chemical Physics
A partnership between the Universities of Glasgow and Strathclyde has received a significant funding boost to help Scottish scientists explore the fundamental workings of matter using the fastest lasers on Earth.
The Ultrafast Chemical Physics grouping has been granted more than £700,000 from the Engineering and Physical Sciences Research Council (EPSRC). The grouping was established in 2008 by Professor Klaas Wynne, of the University of Glasgow's School of Chemistry, and Dr Neil Hunt, of the University of Strathclyde's Department of Physics.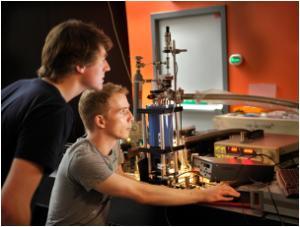 Ultrafast chemical physics is a fast-expanding area of science that uses powerful laser sources to probe the ways in which atoms bond themselves into molecules and how molecules interact with each other. This allows scientist to understand processes and design materials from water to ketchup and from energy conversion in plants to the working of pharmaceutical drugs.
Molecular processes and interactions happen incredibly fast. Using a cutting-edge technique known as ultrafast laser spectroscopy, scientists can examine molecular processes as they happen on super-short timescales down to the femtosecond level (one femtosecond is a quadrillionth of a second or 1/1,000,000,000,000,000th of a second). In the Ultrafast Chemical Physics grouping, researchers are using laser spectroscopy to examine the dynamics of a range of liquids, gels, proteins, and crystals.
Prof Wynne said: "We installed a new laboratory suite last year to help us expand our research and this new grant from EPSRC will allow us to explore new avenues of femtosecond research.
"We're intent on making Glasgow the leading research centre for ultrafast science, and we're aiming to recruit more staff in the near future to help us reach our goals."
Dr Hunt said: "Last December 2011, we organised the second Ultrafast Chemical Physics research meeting in Glasgow attracting leading scientists from all over the world to talk about everything from femtosecond biology to femtosecond x-rays and from femtosecond imaging to terahertz radiation.
"Our aim is now to make such femtosecond technology available to UK researchers especially in Scotland to aid in the development of innovative technologies."
For more information on Ultrafast Chemical Physics, visit www.ultrachemphys.org
---
ENDS
For more information contact Ross Barker in the University of Glasgow Media Relations Office on 0141 330 8593 or email ross.barker@glasgow.ac.uk
First published: 12 April 2012