University of Glasgow opens Confucius Institute
A Confucius Institute for the West of Scotland has been officially opened at the University of Glasgow by First Minister Alex Salmond MSP.
The Institute –a partnership with China's prestigious Nankai University-- is part of a network of more than 350 around the world, supported by the Chinese government to spread awareness, understanding and appreciation of Chinese language and culture.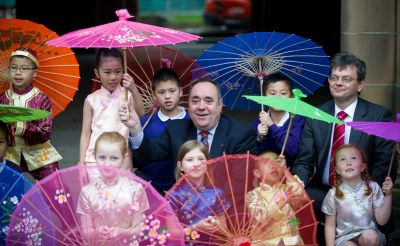 A primary purpose of the Institute, funded by the Chinese National Office of Chinese Language Council International – known as Hanban – is to teach the Chinese language. The Institute will also organise cultural activities, including lectures and exhibitions. It will also provide information and support for businesses in Scotland seeking information and assistance in operating in and trading with China.
Mr Salmond officially opened the Institute at a ceremony in the University's Bute Hall which was attended by Li Ruiyou, Chinese Consul General of the People's Republic of China in Scotland, and Xiaogang Tian, Minister Counsellor for Education, Chinese Embassy London, and members of the academic community and public.
Mr Salmond said: "The promotion of the educational, economic and cultural ties between Scotland and China are further strengthened by the creation of the Confucius Institute at the University of Glasgow. The work being done in partnership with Nankai University will support the Scottish Government's China Plan through support for Confucius Classroom hubs and for Sino-Scottish business links.
"During the past two years, I have had the pleasure of visiting China twice to reinforce this bond and I am greatly looking forward to returning later this year. It is vital that the Scottish Government, our agencies and Scotland's business and education organisations continue to do all they can to continue advancing Scotland's relationship with mainland China and Hong Kong, particularly as we pursue opportunities to build growth and therefore a stronger Scotland."
Professor Jane Duckett, Director of the Confucius Institute, said: "Our aim is to increase understanding of China, its fascinating language, and its rich culture.
Confucius [mp4 "China is playing an ever more important role in the world. Within the next decade or so, it will be the world's biggest economy and it will become an increasingly important trading partner and investor for Scotland and the UK. It is therefore essential to Scotland's future economic success that we understand China in all its diversity and are able to communicate with its people.
"The Confucius Institute will make a significant contribution to the Scottish Government's China Plan through support for Confucius Classroom hubs and for Sino-Scottish business links. It is a symbol of Glasgow's and the West of Scotland's engagement with China and will be an important source of support for that engagement across education, the arts and business."
The Confucius Institute builds on long-standing research collaborations focused on social sciences, arts, business and chemistry, between the University of Glasgow and Nankai University in the major northern city of Tianjin.
The focus of the Institute's programmes will be on contemporary Chinese society and culture, promoting understanding between young people in Scotland and China, and supporting links between the cities of Glasgow and Tianjin.
One of the first events organised by the new Institute is a six-week exhibition of art works by Fan Zeng, one of China's most famous artists, whose traditional 'splashed ink' and figure drawings are hugely popular in China. The exhibition will run until 20 November in the Kelvin Gallery of the Hunterian Museum.
The Confucius Institute is located in the John McIntyre Building on the University's Gilmorehill Campus. For more information visit www.gla.ac.uk/about/confucius/
---
For more information contact Stuart Forsyth in the University of Glasgow Media Relations Office on 0141 330 4831 or email stuart.forsyth@glasgow.ac.uk

First published: 4 October 2011