University researcher named Young Life Scientist of the Year
Issued: Thu, 17 Nov 2011 13:47:00 GMT
A researcher from the University of Glasgow has won the 2011 Nexxus Young Life Scientist of the Year (West) award, which celebrates an extraordinary contribution to life sciences from a young scientist in Scotland.
Dr Katie Hampson, 32, is a researcher in the University's Institute of Biodiversity, Animal Health and Comparative Medicine. She was awarded the title at a ceremony held at the Oran Mor in Glasgow on 16 November.
Katie, who also holds a prestigious Wellcome Trust Fellowship, was honoured for her 10 years of work to implement rabies vaccination projects against rabies in Africa and Asia.
Rabies is one of the world's most neglected diseases. Especially prevalent in sub-Saharan Africa and across Asia, the disease is thought to kill around 55,000 people per year.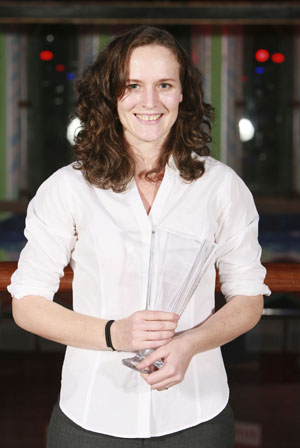 It is estimated that 97% of all incidences of rabies in humans is caused by dog bites. Working primarily in Tanzania, Katie's work focuses on improving understanding of how rabies spreads through canine populations and overseeing vaccination programmes.
Although rabies has been eradicated in the UK, the vast size and poor infrastructure of sub-Saharan Africa mean that successful vaccination programmes require considerable time and sustained resources to prove effective. Katie's PhD research, which looked at the spread of rabies in Northern Tanzania, was key in securing $10 million of funding into rabies prevention from the Gates Foundation, and other grants from the Wellcome Trust which are now being used to train Tanzanian scientists.
Katie said: "Tanzania is an amazing place but it's difficult to conduct studies on diseases because of the problems inherent in transport and infrastructure. What we're starting to see now is a real change in long-term planning and commitment on the ground. Increasingly there are projects being backed by the local government and supported by local researchers which are addressing the problem more intimately and thoroughly than we are able to.
"Because of this, recently I've been taking on a more supervisory role to the local scientists in Tanzania who can do more on a day-to-day basis to track the disease on the ground."
Professor Dan Haydon, who is Director of the Institute of Biodiversity, Animal Health and Comparative Medicine, said: "Katie's work on the epidemiology and control of rabies in developing countries demonstrates not only that it is possible to combine research, capacity building, training, and the establishment of real collaborative local 'in-country' partnerships, but in fact that this mix is essential in order to do the best-quality research.
"It is inspirational to see self-sustaining, top-quality science that improves the livelihoods of people in some of the poorest parts of the world happening right in front of our eyes. I'm delighted that these achievements are receiving recognition."
---