Honorary degree for Stanford computer scientist
One of the world's leading computer scientists has received an honorary degree from the University of Glasgow.
Donald Ervin Knuth, Professor Emeritus at Stanford University, was made a Doctor of Science at a ceremony in the Bute Hall on Friday 11 February.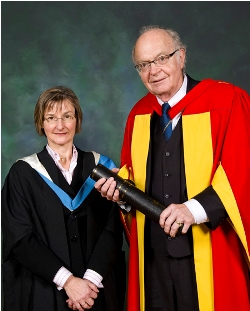 Professor Muffy Calder, who nominated Professor Knuth for the award, said: "Professor Knuth is one of the world's greatest computing scientists. He is the 'father' of the analysis of algorithms and the study of his work is standard fare for every undergraduate and working computer scientist."
Prof Knuth contributed to the development of formal mathematical techniques for the rigorous analysis of the computational complexity of algorithms, created the TeX computer typesetting system and the METAFONT font definition language, and authored some of the best-known texts in computer science.
Prof Knuth has a PhD from the California Institute of Technology and became professor at Stanford University in 1968 where he went on to supervise 28 PhD students.
He received numerous awards, including the Turing Award from the Association for Computer Machinery in 1974; the National Medal of Science from President Carter in 1979; the British Computer Society Distinguished Fellowship in 1980; and the John von Neumann Medal from the Institute of Electrical and Electronic Engineers in 1995.
He also holds several honorary doctorates from universities such as Oxford, Paris, St Petersburg, Tübingen, Oslo and Bordeaux.

---
For more information contact Stuart Forsyth in the University of Glasgow Media Relations Office on 0141 330 4831 or email stuart.forsyth@glasgow.ac.uk

First published: 15 February 2011