John Cage exhibition opens at Hunterian Art Gallery

The University's Hunterian Art Gallery is the only Scottish venue to show the fascinating touring exhibition 'John Cage: Every Day is a Good Day'.
'Every Day is a Good Day' is the first UK major retrospective of the visual art of American composer and artist John Cage (1912 - 1992). Cage is probably best known for his silent work of 1952 titled 4'33".
The exhibition - at the Hunterian Art Gallery from 19 February - has been conceived by Jeremy Millar and is organised by Hayward Touring and BALTIC with the close support and guidance of the John Cage Trust.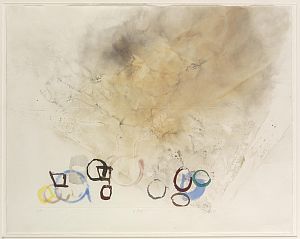 Throughout his career, Cage was closely connected with leading avant-garde artists and performers, including Robert Rauschenberg and the dance choreographer Merce Cunningham. However, it was not until he was in his mid-sixties that he began to work seriously as a visual artist, producing over 600 prints, as well as 260 drawings and watercolours. In these works he applied the same chance-determined procedures that he used in his musical compositions.
The show includes the extraordinary Ryoanji series, considered to be among the most beautiful prints and drawings made anywhere in the 1980s. Cage also experimented with burning or soaking the paper, and applied complex, painstaking procedures at each stage of the printmaking process.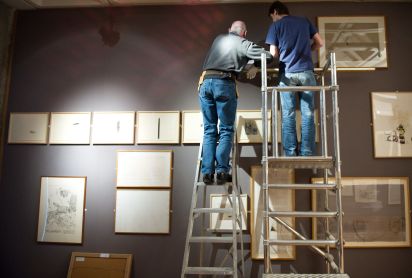 Inspired by Cage's use of chance, a computer-generated random number programme similar to the Chinese oracle, the 'I Ching', will determine the position of each work, resulting in works being displayed at many different heights, and in groups that no curator would ordinarily choose. Such chance encounters between quite different works will give a sense of them being part of an ongoing creative process, rather than being the result of one creative moment. Cage, who disliked linear displays, employed this method in several exhibitions, notably Rolywholyover, in Los Angeles in 1992, which he described as a 'composition for museum'.
Alongside the exhibition will be a lively programme of music and events exploring other aspects of Cage's work, organised in collaboration with the University's school of Culture and Creative Arts.
'Every Day is a Good Day' is a Hayward Touring exhibition from Southbank Centre, London on behalf of the Arts Council England.
Hunterian Art Gallery
University of Glasgow
82 Hillhead Street
Glasgow G12 8QQ
Open Monday - Saturday, 9.30am - 5pm
Admission free

---
First published: 17 January 2011