Vince Cable returns to the University of Glasgow
Issued: Tue, 01 Jun 2010 13:45:00 BST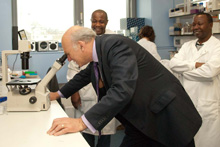 The University of Glasgow today welcomed one of its most high-profile former students back onto campus.

The Right Honourable Vince Cable MP, Secretary of State for Business, Innovation and Skills visited the University's world-leading Glasgow Biomedical Research Centre. Making his first official visit to Scotland since taking up his Cabinet post, Mr Cable toured the laboratories and met with scientists involved in cutting edge research.

Mr Cable gained his PhD in economics at the University in the 1960s and was delighted to return to the University in his new role.

Secretary of State for Business, Innovation and Skills, Vince Cable, said: "Returning to this prestigious institution - one of the top 100 universities in the world - it's clear the vital role the UK's world-class research universities will play in securing our future in the global knowledge economy.

"I'm also personally delighted to be back in Glasgow. It's bringing back fond memories of my days teaching here."

During the tour, the Secretary of State met staff involved in world-leading research, including those from the Glasgow Biomedical Research Centre. This state-of-the-art building houses approximately 300 scientists working in the fields of molecular structure, microbiology, molecular parasitology and immunobiology.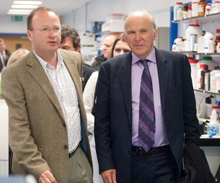 The researchers based in the centre receive significant funding from, among others, the Medical Research Council, the Wellcome Trust and Cancer Research UK and many of the teams feature not only scientists, but also doctors who help translate scientific findings into treatments for patients.

Mr Cable also met staff involved with MD Biosciences, a firm which was spun-out from the University in 2005. He was impressed at the way in which the University was adding value to business through its knowledge transfer activities and close ties with the commercial sector.

University of Glasgow Principal and Vice-Chancellor, Professor Anton Muscatelli, said: "We were delighted that the new Secretary of State for Business, Innovation and Skills chose to come to the University of Glasgow on his first official visit to Scotland.

"Having gained a PhD in economics at this university, he is a testament to our strengths in that particular field. Today, he learnt a great deal about our activities in biomedicine and was impressed by both our world-leading expertise and our innovation.

"It was a great opportunity to show him how this university adds real value to the economy through our research, education and enterprise."



---