Amber: Treasures from Poland website nominated for 'Best of the Web'
Amber: Treasures from Poland website nominated for 'Best of the Web'
Issued: Wed, 24 Feb 2010 13:23:00 GMT
Every year the online community of museums recognises great work in museum websites with the 'Best of the Web' awards.
This year, the Hunterian's 'Amber: Treasures from Poland' exhibition website has been nominated in the category of 'Best Exhibition' alongside sites from other institutions such as the Museum of Modern Art in New York, the Dutch National Museum of Antiquities in Leiden and the National Portrait Gallery in London.
The Hunterian's nomination was based on a several factors including the sites sleek design, compliance with accessibility standards and ease of navigation.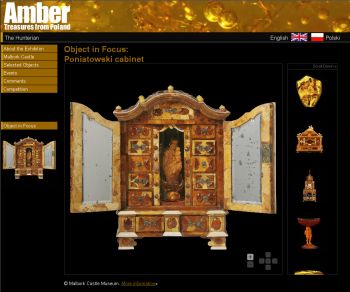 The site is bilingual and can be viewed in both English and Polish. This was an important aspect of the site development as the majority of the objects on display come from Malbork Castle Museum and the Gdansk Amber Museum in Poland.
Other features highlighted in the nomination were the interactive comments book which allows visitors to send feedback based on their experience, and the zoom feature, which allows the user to examine several objects in great detail.
Website developer Mark Herraghty said: "It was a challenge to develop this website. We wanted to show off the beauty of these amazing artefacts on screen. The zoom tool is ideal for examining the detailed craftsmanship involved in the works and for viewing insects trapped in amber. We also took the decision to translate the site into Polish which has been very well received amongst the Polish community."
Dr Neil Clark, Curator of the 'Amber: Treasures from Poland' exhibition said: "The 'Amber: Treasures from Poland' website compliments and enhances the exhibition and provides an opportunity for those unable to visit the exhibition in person."
This exhibition features some of the finest items from the Polish national collection, and offers a unique opportunity to see some fascinating and beautiful artefacts which represent both natural history and northern European craftsmanship.
The objects on display come from the collections at the Gdansk Amber Museum and the Malbork Castle Museum and provide a rare insight into this important aspect of Polish cultural heritage. Objects from the Hunterian collections are also on display.
Amber: Treasures from Poland' is at the Hunterian Art Gallery, University of Glasgow, until 17 April 2010.
'Amber: Treasures from Poland' website http://www.hunterian.gla.ac.uk/amber/
'Best of Web Awards' website http://conference.archimuse.com/page/best_web_awards
Further information:
Mark Herraghty
Email: M.Herraghty@museum.gla.ac.uk
Telephone: 0141 330 6480
Hunterian Art Gallery
University of Glasgow
82 Hillhead Street
Glasgow G12 8QQ
Open Monday - Saturday, 9.30am - 5.00pm
Admission free
---