Medics Against Violence Receive Police Award
A groundbreaking educational programme created by Medics Against Violence (MAV) has today been recognised by the Scottish Policing Awards.
The programme, involving university experts, was set up to educate pupils about the dangers of getting involved in violence and weapon carrying. MAV has been running in schools across Strathclyde for almost a year.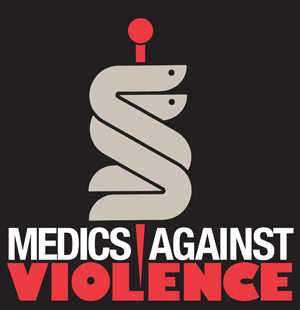 Its founders Dr Christine Goodall, Mark Devlin and David Koppel, all of the University's Dental School, were recognised for their outstanding contribution to Criminal Justice and Tackling Crime through the programme.
Dr Goodall said: "We are delighted that MAV's work had been recognised in this way. When we set up Medics Against Violence we were determined to make a difference to levels of violence in Strathclyde – for us, violence is not just a justice issue, it's a health issue: we see the outcome of violence every single day of our working lives.
"The Violence Reduction Unit and Strathclyde Police have been hugely supportive of our work and although it is still early days, if our message makes just one youngster think twice about taking a weapon with them when they leave the house, it will be worth it."
The award also recognised the work of Campus Police Officer PC Geoff Smith in advising MAV and helping them test the programme before it was rolled out to schools across Strathclyde.
PC Smith added: "MAV's programme is invaluable in helping educate youngsters about the dangers of violence and weapon carrying. Pupils get lots of information about the risks surrounding violence from teachers and campus officers, but to have medics who have seen first hand the physical and mental scars violence can inflict coming in to schools to speak about their experiences really gets the message home that carrying a weapon is not a good idea.
"It's an honour to receive this award alongside them."
MAV were nominated for the award by Violence Reduction Unit Deputy Head Karyn McCluskey.
Ms McCluskey continued: "Christine, Mark, David and their colleagues have been working with us voluntarily for the past four years through a range of different projects. Medics Against Violence is just the latest initiative in their extraordinary effort to support Scotland in its aim to drive down violence. Their dedication and effort, and that of PC Smith, has been immense and I feel privileged to work with them."
The award was presented to MAV and PC Smith by David McKenna, Chief Executive of Victim Support Scotland.
Justice Secretary Kenny MacAskill, who was present at the awards ceremony, said: "These awards highlight many examples of how our police officers, staff and partners across Scotland work tirelessly to serve their communities.

I congratulate Medics Against Violence and PC Smith on their success. By working in partnership in this way we can continue to challenge the problem of violence in Scotland."
Notes for editors
1. Medics Against Violence was set up in December 2008 by Dr Christine Goodall and maxillofacial consultants Mark Devlin and David Koppel. The initiative is funded by £80k of government cash
2. MAV is backed by the national Violence Reduction Unit and the World Health Organisation as part of their Violence Prevention Alliance.

For more media information please contact Eleanor Cowie, Media Relations Officer on Telephone: 0141 330 3683 or Email: e.cowie@admin.gla.ac.uk
---
First published: 20 October 2009