Student recognised for bright ideas in IBM University Jam
A student from the University of Glasgow was one of only 20 in the world to be recognised for their contribution to a recent IBM Smarter Planet University Jam.

Jing Jing, 24, an MSc International Economics student from Jinan, China, took part in the event which was billed as a large-scale web 2.0 approach for massive 'conversation' involving thousands of people, faculties and students from universities worldwide, as well as business and technology leaders, peers and independent authorities.

The event took place over a 72-hour period from 21 – 23 April and saw 2,000 tutors and students from more than 170 academic institutions around the globe come together for an on-line conversation on the vulnerability of global supply chains for food and medicine, the environmental and geopolitical issues surrounding energy, how to adapt our education system to help students acquire the skills to compete in an interconnected, intelligent and instrumented world, and more.

The IBM team of Jam Hosts, Facilitators and Subject Matter Experts identified 20 top student contributors from around the globe who made insightful and/or innovative contributions to the Jam discussion on how technology and business can help build a smarter planet. Jing was one of three top contributors from the UK.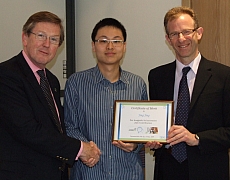 His thoughts on how mobile devices using 3G networks could be best utilised in Smart Cities attracted the attention of fellow contributors and judges.

Jing, who has now finished his course and is keen to find work in Glasgow, said: "It was a great event to take part in and I'm delighted my contribution has been recognized in this way. It was a great forum to discuss ideas with others."

He was presented with a certificate at the IBM offices in Greenock from Robin Gordon, IBM's Strategy & Business Development Manager, Scotland and Sir Muir Russell, Principal of the University of Glasgow.

Robin, who is the IBM Partnership Executive for the University of Glasgow, said: "I am delighted that so many students and academics from Glasgow University participated in the Jam and even more delighted that Jing from Glasgow was highlighted from almost 2,000 people worldwide as providing one of the 20 most-innovative ideas.

"This event highlights the important role that academia plays in shaping IBM's Smarter Planet Strategy."
---
For more information contact Stuart Forsyth in the University of Glasgow Media Relations Office on 0141 330 4831 or email s.forsyth@admin.gla.ac.uk
First published: 27 May 2009