Alexander Stoddart at the Hunterian Art Gallery
A new display at the Hunterian Art Gallery is the first to be devoted to the work of Scottish sculptor, Alexander Stoddart.
Stoddart, who was recently appointed Sculptor in Ordinary in Scotland to the Queen, is one of Scotland's most thoughtful and at times controversial sculptors. He has an international reputation as a creator of monumental work. His achievements include major public monuments to David Hume, Adam Smith, and the recently unveiled James Clerk Maxwell, all in Edinburgh.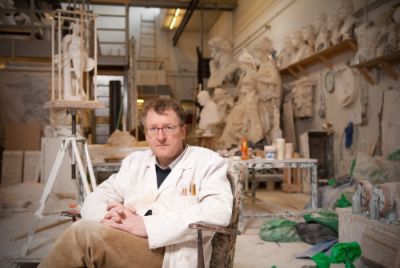 This display focuses on the drawings and models that lie behind the finished work giving rare insight into the processes involved in the creation of his works. The often tiny "first thoughts" – expressed in notebook drawings and rapid terracotta studies, as well as full working maquettes and one-to-one scale studies - document the production process and the rigours of the actual making of a major piece.
The display has been selected and scripted by the artist, and forms part of Homecoming 2009.
Stoddart has expressed his enthusiasm for the project:
'I am thrilled to be given this chance to exhibit work in my beloved city of Glasgow. All my earliest dreams of this noble art of sculpture were first cultivated here, in the "Corinth of the North". I am very grateful to the University of Glasgow, my alma mater, for this honour and opportunity.'
PICTURE: Alexander Stoddart in his studio. © University of Glasgow Photographic Unit.
Hunterian Art Gallery
Alexander Stoddart: Drawings and Models
23 May - 12 September 2009
For further information contact:
Pamela Robertson, Senior Curator
Email P.Robertson@museum.gla.ac.uk Telephone 0141 330 4547
For images contact:
Harriet Gaston, Publicity & Marketing Manager
Email H.Gaston@museum.gla.ac.uk Telephone 0141 330 3310
Hunterian Art Gallery
82 Hillhead Street
University of Glasgow
Glasgow G12 8QQ
Open Monday - Saturday, 9.30am - 5.00pm.
Closed Sundays and 18 - 20 July 2009 inclusive
Admission free
---
First published: 27 May 2009