Former Blue Peter Presenter Graduates
Former Blue Peter Presenter Graduates
Issued: Mon, 22 Jun 2009 08:54:00 BST
The former children's television presenter and actress, Romana D'Annunzio, has graduated from the University of Glasgow.
Miss D'Annunzio, who presented Blue Peter in the late 90's, was presented with her PGDE certificate in Secondary School Teaching this morning in the University's Bute Hall.
The 37-year-old, from Edinburgh, said she was delighted to have completed her degree, adding that it had been a pleasure to study at Glasgow.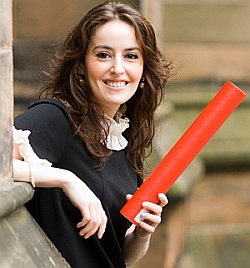 Her PGDE followed an MA at the University of Edinburgh in English and Italian where she also lived and taught in Rome for one year. It was while in Italy teaching English to teenagers that she decided to go into the profession on completing her arts degree.
She said: "It's a great feeling to have completed my studies at Glasgow. Some of my friends recommended I study here and I've not been disappointed. It's been a terrific experience."
"When I was living in Italy I was self-funded so I had to work. I got a job teaching English in a school and it was there I was bitten by the teaching bug. There were a number of times, when I was in the front of a class, that I thought 'This isn't so unlike presenting Blue Peter'. I just loved those days teaching in Italy and can't wait to get into the classroom after the summer."
Miss D'Annunzio, who takes up a probationary post in the capital in August, first joined the legendary ranks of Blue Peter's presenters in 1996. She was only the second Scot to present the iconic children's show. She made her final Blue Peter appearance in 1998 to pursue acting.
For more information please contact Eleanor Cowie, Media Relations Officer, on Telephone: 0141 330 3683 or Email: e.cowie@admin.gla.ac.uk
---