School of Law appoints Director of Professional Legal Practice
Former Chief Executive of the Law Society and Glasgow graduate, Douglas Mill has been appointed Director of Professional Legal Practice in the University of Glasgow's School of Law.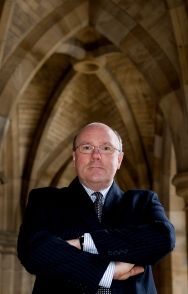 Mill – who, after 11 years at the helm of the Law Society and 18 years experience of private practice, currently runs his own business consultancy – will take up the newly created post on 1 March 2009.
Douglas Mill said: "I am delighted to return to my alma mater to take up the challenge of delivering the University's ambitious strategic plans for the School of Law. I enjoy working with students and have always been very involved in Legal education.
"With the Law Society poised to outline a new style of diploma, Glasgow has the opportunity to develop full 'cradle to grave' law training which will link into lifetime learning for solicitors in Scotland.
"Glasgow has always been unimpeachably good as a legal university but it has been ten years since it has run the diploma in legal practice independently. With the 300th anniversary of the School of Law coming up in 2013, we aim to establish a centre of excellence for professional legal studies at Glasgow.
Mill will continue to run his consultancy business in parallel to the new post. He said: "The University has positively encouraged me to continue my consultancy work as they consider that an on-going coal-face engagement with the profession is essential."
Professor Tom Mullen, Head of the Law School said: "We aim to make the University of Glasgow's School of Law one of the top 7 law schools in the UK, and expanding professional legal education is a key part of our strategy for achieving that aim.
"With his background and experience, Douglas is ideally placed to lead the team that will enhance me our provision of professional legal education and the timing of the appointment is perfect given the Law Society of Scotland's plans for new quality-based continuous professional development."
Further information:
Martin Shannon, Media Relations Officer
University of Glasgow Tel: 0141 330 8593
---
First published: 13 February 2009