Rector launches University of Glasgow scholarship drive
The Right Hon Charles Kennedy, MP, has launched the University of Glasgow's new scholarship drive.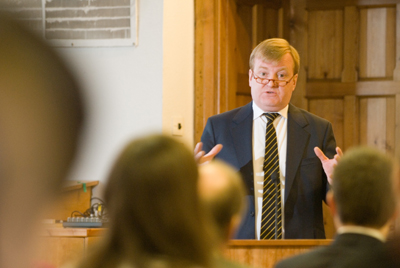 Called the Talent Scholarships, the scheme is designed to unlock the potential of talented young people, whatever their background.
The Talent Scholarships are aimed at smoothing the way through education for some of the most gifted students who otherwise may struggle to pay their way while at university.
At a ceremony held at the University of Glasgow, the first 76 beneficiaries received their award from Dr Kennedy, the current rector of the University.
He said: "Scholarships are an incredibly important part of any university education. They provide opportunities for students who otherwise may not be able to fulfil their potential.
"I have personal experience of the benefits of a scholarship, as I received one to study in the USA, and I can testify that they are a great tool to bring out a student's full talent.
"It is fantastic that these scholarships are funded by gifts from former students of the University, which shows how the students of yesterday are helping the students of today and tomorrow.
"I am proud to launch the Talent Scholarships at my old University and I wish every student who receives one all the very best for their studies and for their future."
The Talent Scholarships are open to any undergraduate UK-based students studying for their first degree at the University of Glasgow and are designed to help ease the financial burden on students and enable the University to continue to attract the brightest and best students from all over the world.
The drive will see at least 200 students a year benefit from an annual award of £1,000 per annum, to be put towards their cost of living. Successful students will receive the money for each year of their degree.
Applicants for the Talent Scholarships are rated on ability and their financial position and the full complement of at least 200 students a year will be in place by 2012.
The scholarships are funded by gifts from alumni and friends of the University.
Cathy Bell, Director of the Development and Alumni Office, said: "We are delighted by the immediate and generous response of our graduates wanting to support this important scholarship scheme.
"Many of our most generous donors have the interests of students at heart and feel a real connection to those who are following in their footsteps.
"The Talent Scholarships enable the University to build on the great tradition of philanthropy which over hundreds of years has helped Glasgow make an impression on the world."
More information on how to apply to the scheme can be found on the University's website: http://www.glasgow.ac.uk/undergraduate/talentscholarships/.
---
For more information, contact Ray McHugh in the University of Glasgow Media Relations Office on 0141 330 3535 or email r.mchugh@admin.gla.ac.uk
First published: 12 February 2009