Broadcasters back Geography initiative
Glasgow students are working The Royal Scottish Geographical Society (RSGS) to encourage more schoolchildren to consider studying geography at University.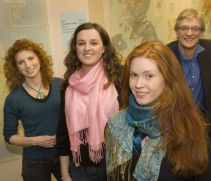 The aim of the Global initiative is to bridge the gap between Geography at school and university and also to introduce school pupils to some interesting and exciting areas of Geography that they may have not yet encountered. The University of Glasgow is piloting the project through the work of Geography students Emma Culley and Alyson Meeke, who delivered a talk for school pupil considering studying Geography at Glasgow University. The intention is to roll it out the pilot to other universities around Scotland.
BBC presenter Nick Crane, best known for the recent 'Coast' series and broadcaster and writer Vanessa Collingridge, who is currently a PhD geography student at Glasgow University attended to lend their support to the initiative.
Mike Robinson, Chief Executive of RSGS said: "Every day our newspapers are full of stories which are inherently geographical in nature or which are better understood through a knowledge of the subject. During the early part of this century the most pressing issues we need to address globally are the sustainability of our planet and resources, of our people and our communities and of our trade and our health.
"These critical issues are better understood and explored through a knowledge of geography. The RSGS, through Global and other initiatives is helping to make these connections between people, place and the planet for the decision makers and geographers of tomorrow."
Further information:
Martin Shannon, Media Relations Office
University of Glasgow Tel: 0141 330 8593
---
First published: 5 February 2009