Cannon to reveal how the Battle of Culloden was won
An engineer at the University of Glasgow has built a fully functioning cannon to enable battlefield archaeologists to answer unsolved questions surrounding cannonballs found at the site of 1746 Battle of Culloden.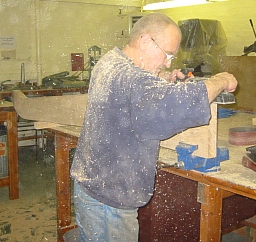 Tests will be carried out using the half tonne cannon, built by Alan Birkbeck, to help archaeologists better understand the role that cannons played in the outcome of the battle.
Dr Tony Pollard, Director of the Centre for Battlefield Archaeology at the University, said: "We recovered a variety of lead projectiles fired by cannons during the Battle of Culloden. These included pieces of case shot and grape shot which featured a number of markings and distortions. By using the recently built replica cannon to test how lead projectiles react when they impact a number of different surfaces we will be able to compare the results with the artefacts collected from the site. These results can then tell us how the cannons were used in the battle and, depending on what they struck, human bodies, the earth or stone, how effective they were in battle."
Dr Pollard worked closely with Alan Birkbeck from the university's Ballistics and Impact Group for the inter-disciplinary project. Alan took a year to build the cannon in his spare time, making almost all the components himself. Alan Birkbeck said: "It is an unusual project but it is a good balance between fun and science. We are currently waiting for permits to start firing projectiles from the cannons but it will be a very exciting experiment when it begins."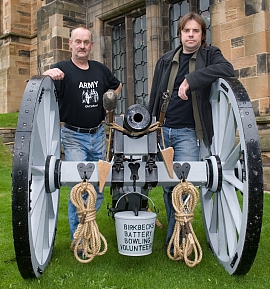 Cannons like this were used by both Cumberland's army and the Jacobites in the opening stages of the battle. They appear to have been used to deadliest effect by the Hanoverians, who fired them into the oncoming Jacobite charge.
Further information:
Martin Shannon, Senior Media Relations Officer
Tel: 0141 330 3683 Email: m.shannon@admin.gla.ac.uk

---
First published: 12 September 2008