Student Teaching Awards 2022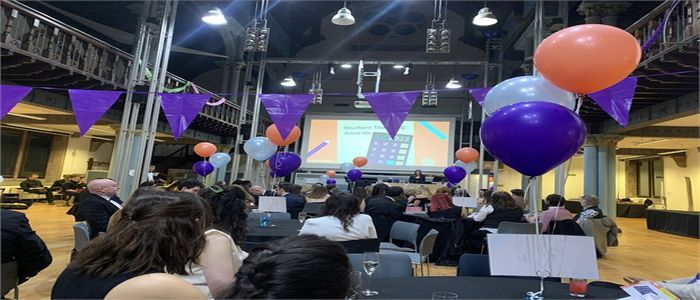 Huge congratulations to all the nominees and winners of last week's Student Teaching Awards (STAs)
Organised each year by the Students' Representative Council (SRC), the Student Teaching Awards (STAs) help recognise the great work of some amazing members of staff, and also help highlight best practice which can in turn help make other parts of UofG improve for all students and colleagues.
There are a number of different categories relevant to all levels of study, ranging from Best College Teacher right through to Outstanding Contribution to Teaching. Nominations were open until the 28 of February, with the awards ceremony were hosted in the Kelvin Gallery on the 24 of March.
'From the nominations we received a shortlist was created and we're delighted to announce the nominees and winners below! Thank you so much to everyone who submitted a nomination'. Mia Clarke (she/her) SRC Vice President (Education) 2021/22.
Nominees and Winners
The Nominees and Winners are all listed below. Or Download a copy of the event programme here.
Best Advisor of Studies
Advising is another fundamental part of the student experience here, and Advisors are often the first port of call for students needing support and guidance. Staff nominated in this category from across the University are Dr Aileen Linn, Professor Catherine Lido, Dr Colin Herd, Dr Linnea Soler and Dr Javier Solana.
and the winner is: Professor Catherine Lido.
Best College Teacher - Arts
The shortlisted staff in this category are Dr Robert Maslen from Critical Studies, Dr Don Spaeth from the school of Humanities, Dr Ernest Schonfield from Modern Languages and Cultures, and Dr Alexandra Colta and Dr Dominic Paterson who are both from Culture and Creative Arts. Students told us how their individual attitudes to their subject and talent for teaching shine through in the teaching of their respected subjects.
and the winner is: Dr Ernest Schonfield.
Best College Teacher - CoSE
Dr John Williamson from Computer Science, Dr Amanda Owen from Geography and Earth Science, Dr Oliver Stoner from Maths and Stats, Dr Laia Vila-Nadal from Chemistry, and Dr Hossein Zare-Behtash from Engineering are all shortlisted for this award. All are commended for their work in making Science and Engineering accessible and interesting to learn.
and the winner is: Dr Amanda Owen.
Best College Teacher - CoSS
For this award, we have representation from the Adam Smith Business School, the School of Education and the School of Law. The shortlist in this category is Dr Mark Aleksanyan, Dr Alberto Ciancio, Dr Robert Doherty, Professor Jim Murdoch and Mr Desmond Timmons. Much like others nominated in the sister categories, these nominees are highly commended for their teaching in their respected subject areas.
and the winner is: Prof Jim Murdoch.
Best College Teacher - MVLS
This category has shortlisted members of staff from the School of Psychology (Professor Niamh Stack and Dr Jude Stevenson) and the School of Life Sciences (Professor William Cushley, Professor Robert Nibbs and Dr Michelle Welsh) respectively. These nominees were all outlined by students to be top of their field not just in their pedological practise, but in creating an inclusive learning environment.
and the winner is: Professor Robert Nibbs.
Best Dissertation Supervisor
For many students, their dissertation or final year project will be the largest independent project they have ever undertaken. This award celebrates the incredible work of supervisors who have provided exceptional guidance and helped to build student enthusiasm for their subject. Professor Kathleen Riach, Dr Peter Keenan, Dr Akhil Kallepalli, Dr Rhian Thomas and Dr Martin MacGregor were all shortlisted for this award.
and the winner is: Dr Akhil Kallepalli.
Best Graduate Teaching Assistant
Graduate Teaching Assistants form a fundamental part of the learning experience of so many of the students here at the University. This award aims to give high commendation to GTAs that inspire students to study beyond the classroom. Coming from a variety of subject areas, the shortlisted nominees in this category are Zoltan Kiss, Vanessa Cook, Rebecca Lai, Michael Scanlan and Carlota Vazquez Gatnau.
and the winner is: Michael Scanlan.
Best Research Supervisor
The undertaking of a PhD, MRes or MSc by Research is underpinned by the guidance of a student's supervisor team. This award considers those who inspired students to take their research in new directions, provide support and guidance, and inspired students in their respective areas. Dr Naomi Richards and Dr Marian Krawczyk, Dr Sergiu Gherghina, Dr Scott Hurrell and Professor Jillian Gordon, Dr Neil McDonnell, and Dr Andrea Cammarando are all considered for this award either as a supervisor team or primary supervisor.
and the winner is: Dr Sergiu Gherghina.
Best Student Representative
Unlike the other categories which were selected by the student committee that oversee the shortlisting process, the shortlist and winner of Best Student Representative is chosen solely by the VP Education. All those shortlisted have gone above and beyond their remit to enact positive change at the University and maintain strong dialogue between the SRC and the students they represent. Michalis Stravou, Rinna Vare, Elizabeth Barre, Tiegan Meadows and Hanne Kleinhans Krogsaeter are all considered for this award.
and the winner is: Elizabeth Barre.
Best Support Staff
Support staff refers to a non-academic member of university staff who provides support to students that goes above and beyond expectations. Staff nominated in this category were noted by students for being friendly, responding in a timely manner and providing excellent guidance. The shortlist for this award are Mrs Marnie Clark, Mr Kenny Roberts, Mr Matthew Weldon, Mr Andrew Phillips, and Miss Alison Ballantyne.
and the winner is: Matthew Weldon.
Best Feedback
Receiving timely feedback that is constructive and useful is important to every student, and this award considers those who have gone above and beyond to provide feedback that improves students work. Those commended in this category are Dr Camille Huser, Mrs Suzanne McCallum, Mr Martin Miragoli, Dr Maria Jackson and Dr Andrew Jamieson.
and the winner is: Dr Camille Huser.
Best Practise in Online Learning
This award considers teaching staff from across the University who have been nominated for their outstanding work in online learning. As we move from fully online to a blended model of teaching, online learning has never been more important for students to engage with. The shortlist in this category is Professor Graham Woan, Dr Smita Odedra, Dr Ourania Varsou, Dr Jeremy Law and Dr Angela McDonald.
and the winner is: Professor Graham Woan.
Highly Innovative Teaching
Those selected for consideration for this award use innovative teaching techniques to inspire their students to learn in a new and different way. The shortlisting panel thought this category was of particular prominence due to the blended model of learning this year. The shortlist for this award are Dr Emily Nordmann, Dr Timothy Peacock, Dr Gerasimos Tsourapas, Ms Sam Fontaine and Dr Lynsay Crawford.
and the winner is: Dr Timothy Peacock.
Outstanding Contribution to Teaching
The final award of the evening considers members of staff who have made an outstanding contribution to teaching over the past academic year. The chosen shortlist for this award is Dr Iain Neill, Dr Clare Smith, Dr Phil McAleer, Ms Judith Garcia Obrador and Mr Michael Barnes.
and the winner is: Dr Phil McAleer.
---
Should you have any questions about the Student Teaching Awards 202, feel free to contact Mia, SRC VP Education at m.clarke@src.gla.ac.uk
First published: 31 March 2022