The Dear Green Bothy launched by the College of Arts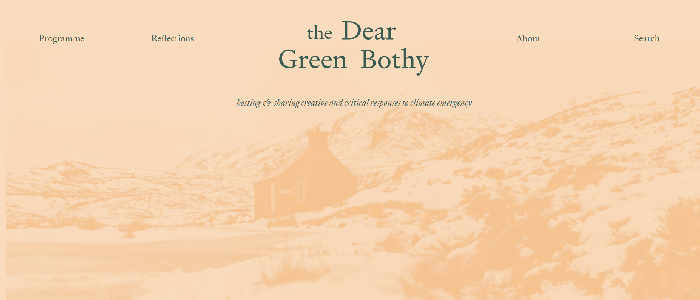 Marking Glasgow's hosting of the 26th United Nations Climate Change Conference – COP26 – in November 2021, The Dear Green Bothy is a programme of free public events and activities demonstrating the vital role played by the arts and humanities in understanding and addressing climate emergency.
Led by the University of Glasgow's College of Arts, The Dear Green Bothy is an open space where researchers, artists and communities can gather to respond creatively and critically to the challenges of the ecological crisis.
The Dear Green Bothy invites you to take part in our events – and to get in touch if you have ideas for future hospitable collaborations.
To keep up to speed with the programme make sure to subscribe to the What's On at the College of Arts monthly newsletter and follow @UofGArts and #TheDearGreenBothy on your social channels.
---
The Green Bothy Project Team
Mark Banks | Academic Lead
Contact Mark to discuss the programme themes and research content, or to propose new activity or collaborations:
mark.banks@glasgow.ac.uk
Casi Dylan | Project Manager
Contact Casi to discuss programme details, or with any general queries on project management and communications:
casi.dylan@glasgow.ac.uk
Nicole Smith | Evaluation Lead
Contact Nicole to learn more about ways to get involved in how we evaluate and measure the impact of the project:
nicole.smith@glasgow.ac.uk
The College of Arts' Sustainability Working Group
Supported by the College of Arts' Sustainability Working Group, a group of staff and students working to demonstrate the role of the arts and humanities in engaging with the complexities of sustainability.
Contact Minty Donald for more details:
minty.donald@glasgow.ac.uk
First published: 24 June 2021