Scottish Parliament Election 6 May 2021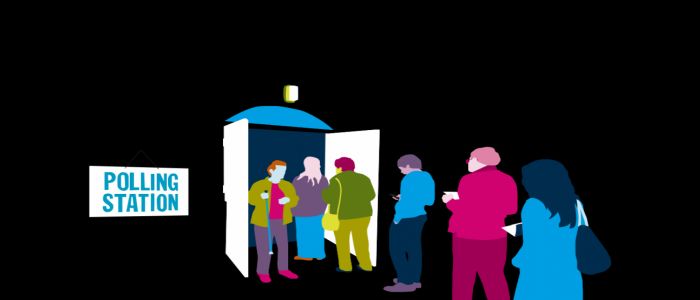 The next Scottish Parliament election will take place on Thursday 6 May 2021 when 129 Members of the Scottish Parliament (MSPs) will be elected to Holyrood.
To vote on 6 May, you must make sure you are registered on the electoral register. The deadline to register to vote is midnight on Monday 19 April and you can register online. If you're not able to make it to the polling station on the day, you can ask someone you trust to cast your vote for you. This is called a proxy vote and the person casting your vote is often referred to as your proxy.
Following a change to law last year, all foreign nationals with leave to remain, including all those granted refugee status, will be eligible to vote in Scottish Parliament and Local Government elections in Scotland. This means that international students and staff at the University of Glasgow will be able to vote on 6 May. If you're a UK student, you may also be able to register to vote at both your home and term-time addresses. Students can cast only one vote but registering at both your home and term-time address ensures you can have your say despite any guidance that may change as a result of the COVID-19 pandemic. You can find further information on voting as a student and how to check if you're already registered to vote online.
Everyone in Scotland is represented by 8 Members of the Scottish Parliament, or MSPs. One is a constituency MSP and the other 7 are regional MSPs. When you go to vote, you will receive two ballot papers. One is for you to choose your constituency MSP. The other is for you to choose a political party (or independent candidate) for your region.
If you are looking to find out more information about the election and voting in Scotland, then The Electoral Commission in the UK is an independent body that provides advice about:
your right to vote
the process to register to vote
where to go on election day
how the COVID-19 pandemic will affect election arrangements
The Electoral Commission provides all of this information on their website.
If you are interested in learning more about each party's policies, then you will find this information on the party websites and you can look out for any husting events held locally, as well as a series of Leaders' debates due to be held on TV in the coming weeks.
The Royal Society of Edinburgh, Royal Society of Chemistry, Institute of Physics and Royal Society of Biology are also hosting a 2021 Holyrood Elections Science Hustings on Tuesday 13 April. The event is free to attend and will give the scientific community and members of the public the opportunity to quiz the political parties. The event will be held on Zoom and you can register to attend online.
---
First published: 8 April 2021