Study With Us #TeamUofG - Livestreaming Study Sessions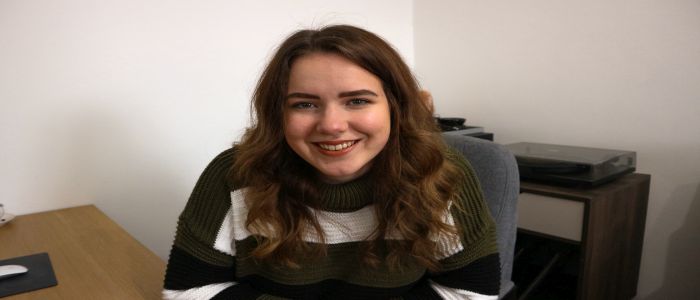 My name is Lois, and I am a fourth year Immunology student in the School of Life Sciences.I am from the Scottish Borders and in 2017, I moved to Glasgow to start studying for my undergraduate degree.
However, due to the pandemic, I made the decision not to move back to Glasgow for my final year of studies. I'm sure that many students will agree - it isn't easy to study when you're a hundred miles away from your peers and from the campus.
Zoom calls can either get you through the day or exhaust you of any energy that you once had. My family aren't academic, and I've found it difficult to find people who relate to my struggles, as I'm sure many other people in my situation have found.
Student Vlogger
I have been a UofG Student Vlogger for a couple of years. I created videos which discuss different aspects of student life in Glasgow, such as where to study on and around the beautiful UofG campus. But now, I'm not in Glasgow. I'm quite far away.
After spending hours on YouTube, trying to find the motivation to study by watching other people study, I decided that I wanted to try to create a community of students who can study together and motivate each other.
Study livestreams
Study livestreams and coworking sessions have increased in popularity throughout the pandemic as student crave the 'we're all in this together' atmosphere that they usually thrive in at university.
To create this community, I have recruited my fellow members of the Glasgow University Infection and Immunity Society committee. Along with Elliot Stanton, Olivia Ridgewell, Rhian Pennie and Chloe Christie, we have been hosting various online events, such as Netflix watch parties, to attempt to engage with our peers, even if we are all far away from each other and not allowed to leave our homes. As exam season looms around the corner, we have decided to take action.
Motivational Environment
On Thursdays between 2pm and 4pm, we will be livestreaming our study sessions on the University of Glasgow YouTube channel. The purpose of this stream is to create a motivational environment for students to study in, as many of us are on our own and miss studying in the library or with friends.
We will be working for 50 minutes, from 2pm until 2:50pm. Then, we will have a 10-minute break, and start studying again at 3pm until 4pm, when the livestream will end. You can find previous study sessions on the 'Study with Us | Live Study Streams' playlist on the UofG channel. Feel free to play these videos at your leisure to help motivate you through these difficult times of online university and lockdown.
Come along and join our stream to study with us!
---
Set a reminder to watch the next Study With Us Live Stream now
Watch previous Study With Us Live Streams now on Youtube
Watch more of our #TeamUofG Vlogger Playlists
First published: 18 March 2021