3 Minute Thesis 2021- Registration Now Open!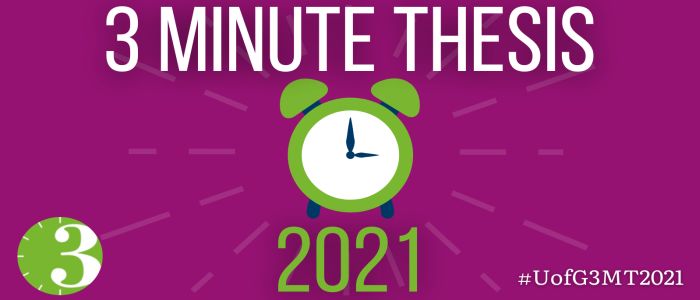 What is the 3 Minute Thesis?
The Three Minute Thesis (3MT) is an academic competition developed by The University of Queensland, Australia. Research students (MRes and PhD) have three minutes to present their thesis topic, and its significance, in a concise and compelling way. The first 3MT took place in Glasgow in 2013 and has run annually since. The competition is for all research students, regardless of year of study, background, or research field. There are four heats and a grand final, all in front of a live audience. Last year's winner, Ciaran McGeedy (Listening to Butterflies with Brainwaves) has written about his experience of taking part.
Why Take Part?
There are so many reasons to take part in this year's competition!
The 3MT is a supportive, friendly environment in which to practice public speaking and develop your confidence as a presenter.
It is a fantastic opportunity to feel a part of the UofG PGR community and connect with research students from other graduate schools. This year's competition will be online, so there is no requirement to be in Glasgow.
You will receive feedback from the judges after the heats, which is incredibly useful for future conference presentations.
Past winners and finalists have been offered lots of fantastic opportunities after the UofG Competition and taking part will boost your career prospects.
The 3MT is a great opportunity to distil your topic and make it accessible. Perfect for preparing to articulate your research to relatives over Christmas dinner.
Preparing your talk will force you to get to the heart of your research and think carefully about its relevance to everyday life, which feeds back into your project structure and thesis writing.
How Do I Get Involved?
Registration is now open and can be accessed through the 3MT Moodle Page, where you can find the registration forms and handbook. Free audience tickets for the heats will be made available soon.
---
First published: 28 January 2021