Nightline's Wall of Kindness Returns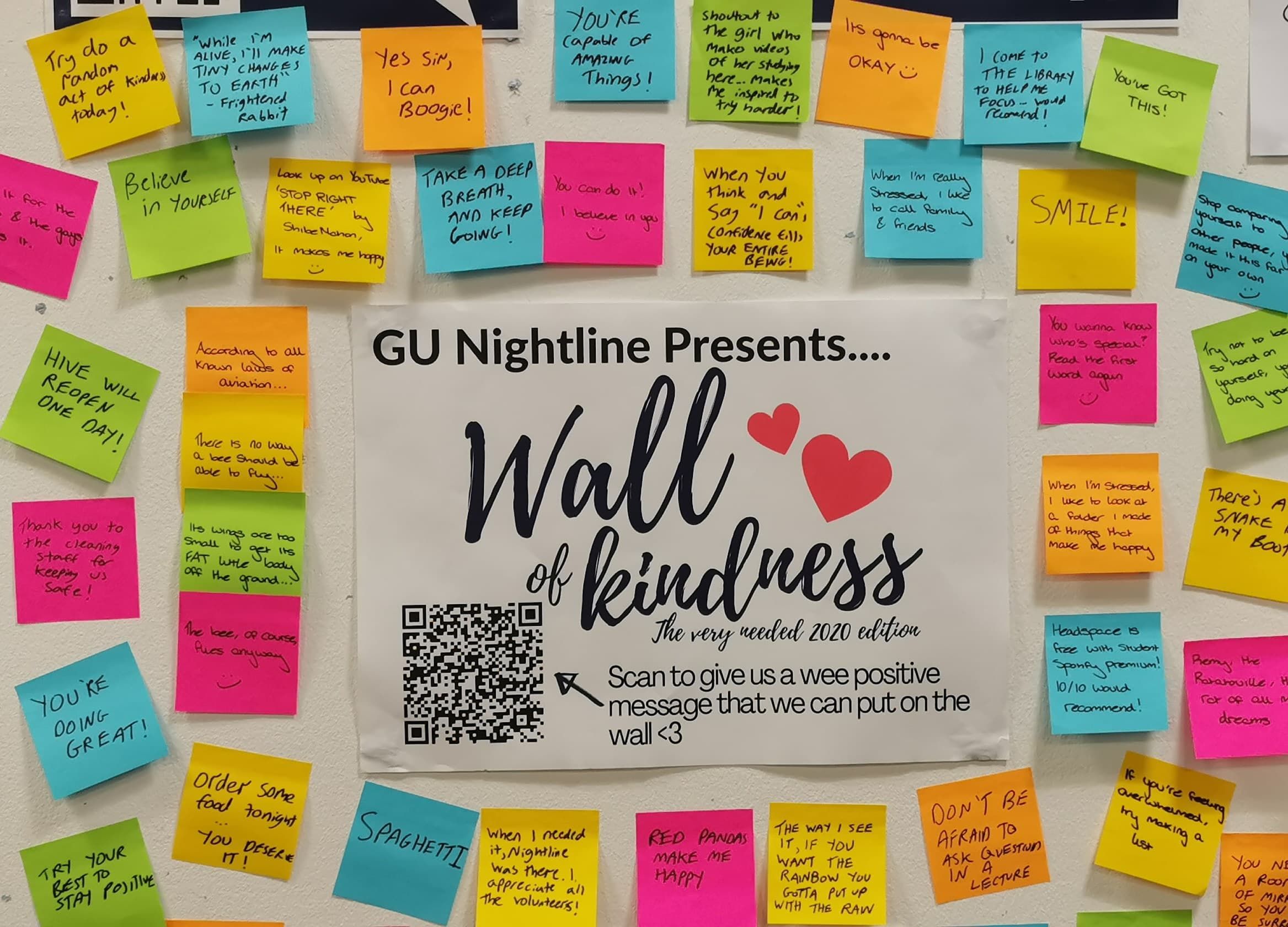 UofG Nightline's Wall of Kindness returned to the Library last month for Nightline Awareness Week.
Tell us more about the Wall of Kindness?
This is not the first time we have decorated the library wall with hundreds of colourful post-it notes of kindness and positivity. This year though, things felt different. Given the sombre mood everywhere right now, we really wanted to put as much energy as possible into covering as much of the wall as possible with kind messages. The wall itself is easy to spot on the third floor - the one with the café! We created a new Instagram account to share some highlights and to pass on the kindness.
Got any personal favourite comments up on the wall?
I love the difference in tone from message to message. One post-it will be a life-changing motivation boost which gives such great personal advice into dealing with stress in these unprecedented times, then beside it will be a post-it with just the word 'Spaghetti' written on it.
So, you started doing the Wall of Kindness during during Nightline Awareness week, tell us more about Nightline?
UofG Nightline is a student run listening service. We follow five core principles:
Confidentiality: nothing you say during a call will go any further, and nobody will know you have called.
Anonymity: both callers and volunteers are completely anonymous.
Non-directive: you decide exactly what you want to talk about.
Non-judgemental; we will always respect your opinions and decisions.
Non-advisory: we will not pretend to know what is best for you, we will just provide a space for you to talk freely about whatever you want to.
When Is NightLine Open?
Typically, we run a phone line from 7pm-7am, an anonymous instant messaging service from 7pm-midnight and an email service.
Unfortunately at the moment, all we are operating is our messaging service - which is accessible at our website gunightline.org. We are committed to staying open Monday to Friday, from 7pm–midnight, up until the 18 December, 2020.
We miss having our phone service open, but our online chat still provides a space to talk about whatever is on your mind freely.
Who runs nightline?
Nightline is a student run listening service. Every anonymous listening volunteer is a fellow student who has completed a thorough training course. The Nightline Association is a registered charity which support the 36 Nightlines at different universities across the UK. The association provides support and resources to make sure that our volunteers are the best equipped they can be.
How can someone become a volunteer?
If you are interested in becoming a volunteer for nightline keep your eye on our social media at the start of next year. If your application is successful, we will invite you to an interview. We recruit new volunteers at the beginning of each semester and will post all the relevant information for applying to our Instagram or our Facebook page.
---
For more informtion on UofG Nighline
First published: 3 December 2020