Three Minute Thesis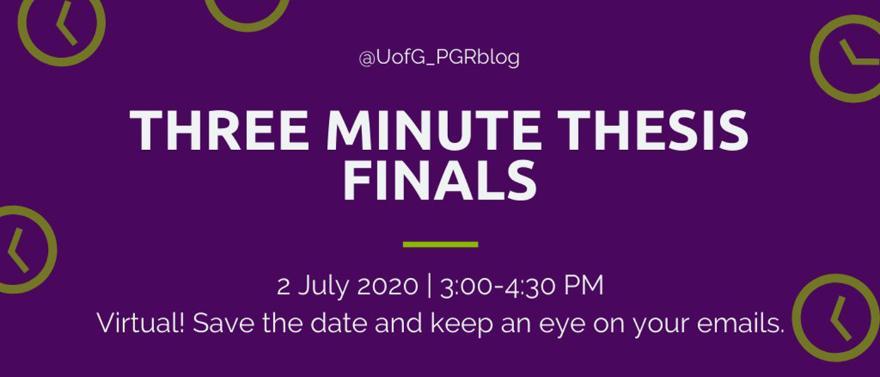 It's time again for one of the most exciting PGR events of the year: Three Minute Thesis (3MT).
3MT is an academic competition for research students which challenges them to present their research to a non-specialist audience in three minutes with the use of only one slide.
It's a great opportunity to develop and improve public engagement skills including public speaking, communicating complex ideas, and adjusting presentations to your audience.
The Heats were held in March, but the finals had to be postponed...until now.
13 finalists will compete for the chance to move onto the U21 Three Minute Thesis Competition. They'll also be competing for some fabulous prizes: The overall winner of the competition wins a £1000 travel/research grant, while the runner up wins a £500 travel/research grant, and the People's Choice winner will receive a £100 voucher.
Join us Thursday 2 July 2020 from 3:00-4:30PM for some bite-sized learning. Register through Bookitbee for a ticket! Friends and family welcome. Registration closes on the 30 June 2020.
We appreciate that during this period of uncertainty, you may have concerns, so we have put together some PGR FAQs
---
First published: 25 June 2020