Siteimprove
By alerting you to potential editorial errors, style guide infractions and accessibility inconsistencies, Siteimprove will help you find misspellings or broken links on your webpages which can then be fixed to help increase the visibility and credibility of the University of Glasgow website.
If you would like access to Siteimprove in order to login to check for errors and improve your webpages then please email webteam@glasgow.ac.uk and provide your name, UofG email address and the section of the website that you would like to view. Once set up, you will be sent an email with login details to https://my.siteimprove.com/ where you will be able to view and locate any highlighted issues with your website.
For an overview of how to use Siteimprove please view the following resources:

Siteimprove services:
Quality Assurance
Fix Broken Links, Misspellings, and Poor Readability
Broken links, misspellings, and poor readability can have a devastating effect on a visitor's experience with a website, and therefore the image of the organization behind the website. Siteimprove Quality Assurance provides you with the tools to identify, locate, and prioritize broken links, misspellings, and instances of poor readability elements so your team can fix them and protect your website's credibility.
How does it work?
Keep your website clean and up to date with ease. Siteimprove Quality Assurance consistently scans your website for content quality issues, including broken links, misspellings, and readability. By testing and scoring web pages against one of seven readability tests, Readability extracts the textual content of a page utilizing machine learning and returns results based on the actual content of the page.
Find broken links and misspellings
Monitor every link on your site and see problem links in organized, filtered lists. Automatically detect broken links and misspellings and see a full inventory of media files, email addresses and other data. Receive automated website scans every 5 days, or set up your own manual alert system.
Task management and custom reporting
Easily create page groups and delegate responsibility, whether you're a centralized team of one or two employees, or a decentralized team across departments. Schedule customized reports to be delivered right to your inbox at a frequency of your choosing.
Policy
Enforce Web Policy Standards
Siteimprove Policy allows users to ensure that content, media files, style, branding, and HTML language are in line with their organization's standards, and that users won't be put off by a poor user experience on your website.
How does it work?
By implementing specific content policies, Siteimprove will scan your website content for anything that violates branding, style, legal, or regulatory policies. Users can create rules to monitor for:
Offensive content, branding and trademark consistency, document and image file size, page structure, and more!
Protect your brand identity
Ensure consistent presentation of your brand messaging and content across all sites, while avoiding embarrassing mistakes.
Mitigate risks
Ensure that required content is present (Privacy Policies, Terms of Use) and unwanted content is absent (Social Security numbers, inappropriate words, etc.)
Accessibility
Assists with Website Accessibility
Web Accessibility is about allowing people with and without disabilities to have access to the information they want and need from your website. With reports of 1 in 5 people claiming some sort of disability, 20% of the population is just too large of a group to ignore. Siteimprove Accessibility gives you a complete overview of your site's web accessibility issues, plus clear explanations of how they affect your users, and specific recommendations on how to fix them.
How does it work?
Jumpstart your website's accessibility, no experience required! Prioritize and manage your web team's accessibility compliance. Check WCAG 2.0, levels A, AA, and AAA errors, Accessibility for Ontarians with Disabilities Act (AODA) web requirements, and reference current Section 508 issues alongside detailed fix explanations.
Check your website for ADA-compliance issues
Choose any level of compliance with a single click, and get a list of actionable items organized into three simple categories. Clear explanations of issues and solutions do more than speed the fixing process – they make web accessibility understandable. Specific issues are highlighted directly on the page, so you know exactly what you're fixing.
Check online PDF accessibility issues
Siteimprove Accessibility also scans all of your site's PDFs for detectable issues. This includes full document and single page element accessibility issues affecting usability, from missing headings and bookmarks to images without alternative text.
SEO
Manage SEO: Work smarter, not harder to attract website visitors
By providing a simple approach to the world of Search Engine Optimization, Siteimprove helps you achieve better online visibility and attract more visitors. Siteimprove's on-page SEO is simple – with just a few fixes, you can greatly improve overall SEO.
How does it work?
Siteimprove SEO automatically runs a scan of your entire website or specified sections of web content every five days – and manually as needed. You can then see what SEO issues exist on your website and easily delegate tasks to team members to immediately improve SEO.
Pinpoint and correct on-page issues with intuitive in-page issue highlighting
Our SEO tool pinpoints exactly where SEO issues occur, so your team can easily see and fix any issues related to your website. With our intuitive interface, any member of the team can dive in to help optimize your website, and written instructions from experts give you an explanation of the issue so you can hone in on your skills and sharpen your website at the same time.
Schedule, export, and customize SEO reports
Siteimprove SEO automated reports are delivered directly to your inbox, giving you a view of what errors you need to fix and easily communicate with team members. You can also export data directly from specific features in MS Excel and XML format, and generate as many report templates as you wish.
Readability
Readability offers the choice between 7 recognized readability tests, where the content of your web pages are reviewed and scored accordingly.
Siteimprove utilizes a system where content is extracted from each page, so common elements for the website are not included (menu, side bar etc). A score is then calculated and a readability level given.
A full overview is offered within the QA service detailing the number of pages that have reached a specific score.
Individual page reports also detail the readability score that has been achieved, with highlighted long words, sentences and polysyllabic words (depending on the readability score that has been chosen).
To assist in improving the general readability of the web page, long words and polysyllabic words that are seen in the content are also highlighted in areas that are not considered content.
Flesch-Kincaid Reading Ease
Flesch-Kincaid Reading Ease is a readability test designed for English text. The test has focus on polysyllabic words and long sentences. It is widely used in US government as a way of ensuring that documents and forms are understandable for the "average" American. Results are measured on a scale of 0-100, where 0 is very complicated to read and 100 is very easy to read. This score can be related to the approximate US grade level needed to comprehend the text. When calculating Flesch-Kincaid Reading Ease, the following formula is used:

Best practice
A good standard to aim for is around 7th-8th grade in the US grade level system (12-14 years), which equates to the 60-70 range or higher. If you do not have a specific policy for reading age on your site try and focus on the pages that return a score of 60 or lower (10th grade +).
Note: The length of text on a web page is typically short, and the way the text is formatted can affect what is identified as content greatly. Some elements make it particularly difficult - such as lists and tables.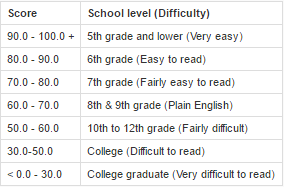 flesch-Kincaid Reading Ease readability scorecard
(Scores can be returned outside of the range presented on the scorecard)