Social Sciences College Office - Florentine House
Built around 1828, Florentine House is one of the oldest buildings in our estate and home to our College of Social Sciences (CoSS) College Office. Purchased by the University in 1981, the building had seen no significant refurbishment work for decades. By the start of the pandemic, the College Office team had outgrown the building's existing set-up; the building was a tired series of offices which failed to reflect the College's heritage and profile as a world class centre of research and teaching.
An extensive refurbishment of Florentine House commenced in Summer 2022, designed to provide modern, agile working space whilst emphasising many of the period features that remain in the property. Changing the purpose and layout of each workspace to improve the utility of the building overall, the refurbishment will improve the experience of its occupiers, enhancing its functionality and aesthetic.
Consultation with building users was key
In consultation with building users, a design process facilitated by space consultants led to a project brief which includes:
Modern workspaces across all levels of the building which, through well-considered furniture design aligned to agile/hybrid working, will service more staff than previously possible
A greater proportion of 'multi-use' spaces. Traditional, shared offices spaces have been replaced by hybrid meeting rooms which can also be used as teaching/collaborative working/office spaces as demand dictates.
An overall reduction in desks by 25%, despite an increase in the number of colleagues based in the building
Sympathetic adaptations, respecting the historical nature of the building, to improve its sustainability and overall appearance to present a positive image to stakeholders and visitors to the College
Enhanced social and welfare provision within the building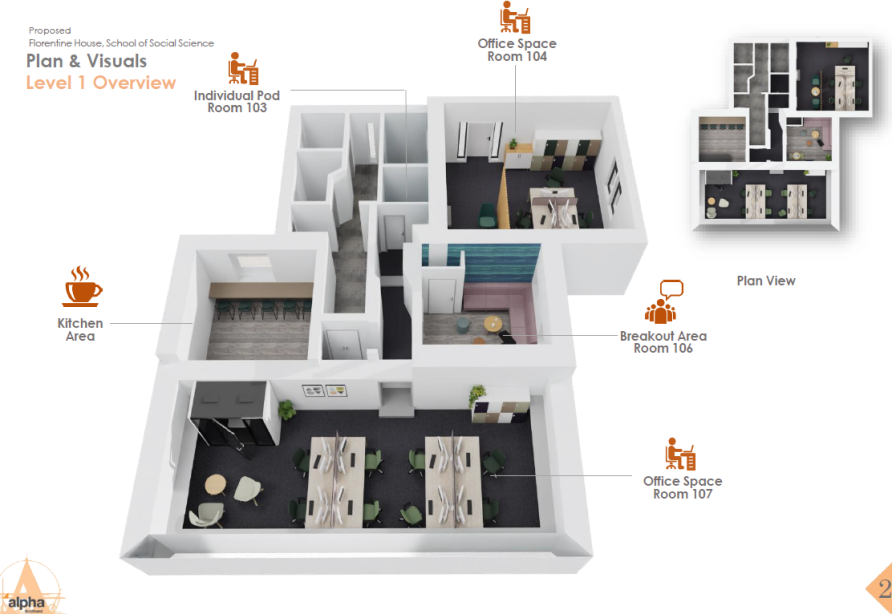 Role Modelling Fairness and Equity
The building users will also role-model the equity and fairness that underpins much of the research and teaching in Social Sciences through the way in which they use the building; space will be accessed based on need rather than seniority. Only two individual-use offices will remain in the building for independent working, but with access shared by colleagues. The Head of College, Director of Professional Services, Head of Finance, Head of HR and other building users will share access to these individual use offices, allowing the College Office to maintain its overall footprint despite an increase in headcount.
"Florentine House will be an example of how traditional university buildings can be transformed into workspaces that meet the future needs of our colleagues, students and external stakeholders. Building users have been consulted at all stages of the design process, from informing the types of workspace within the building, to offering opinions on the furniture and carpet colours. We will continue to keep colleagues updated during the building work and plan to create a building user group to discuss more practical concerns and office etiquette before we return. It's an exciting project; we're conserving and modernising, both the building and our work practices, at the same time." Billy Howie, CoSS Head of Operations