World Changers Welcome
We have created our own brand message for student recruitment based on the brand essence – where people inspire people to change the world. It captures who we are and what we offer at the University of Glasgow. It helps us to remember and convey internally what our brand is all about and it sends a clear message about the students we want to recruit.
Our prospective students could be world changers in their own community or environment, in a field of study or a cause – being a world changer is very much an individual ambition.
If you have any questions, suggestions or queries about the student recruitment brand please email mario-recruitmentmarketing@glasgow.ac.uk.
Building our brand message
The core message of WORLD CHANGERS WELCOME is flexible enough to be used across all communication channels.
In certain instances you may choose to add in a sign-off line/call to action. We have two versions, which can work across different levels of study. 'Who Will You Become' is primarily (but not exclusively) used for undergraduate activity and 'Join Us And Make Your Mark' tends to be used for postgraduate activity.
The typography can be treated in different ways depending on the space available and messaging hierarchy you wish to create.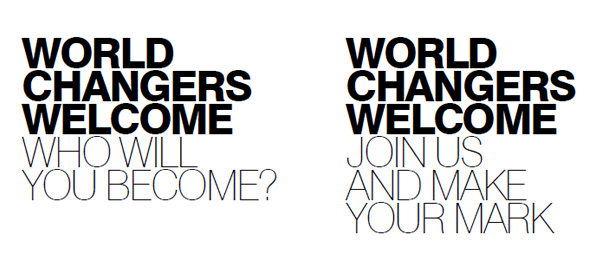 There are two versions of our lock-up. The Primary lock-up is stacked vertically and the secondary is stacked horizontally. WORLD CHANGERS WELCOME takes strength from having a consistent look – one word occupying each line.
The call to action may also be used on its own elsewhere in a communication eg. beside our url or on the end frame of an animated gif.
WORLD CHANGERS WELCOME is typeset in capitals using Swiss Heavy with tracking set to -50. The surrounding words are typeset in either Swiss Thin with tracking also set to -50. The leading is always 80% of the point size – eg 50pt type with 40pt leading.
This applies where WORLD CHANGERS WELCOME is used immediately alongside a tagline.
For larger format print materials, the Swiss Lite font is recommended for the surrounding strapline. The WORLD CHANGERS WELCOME should remain in Swiss Heavy.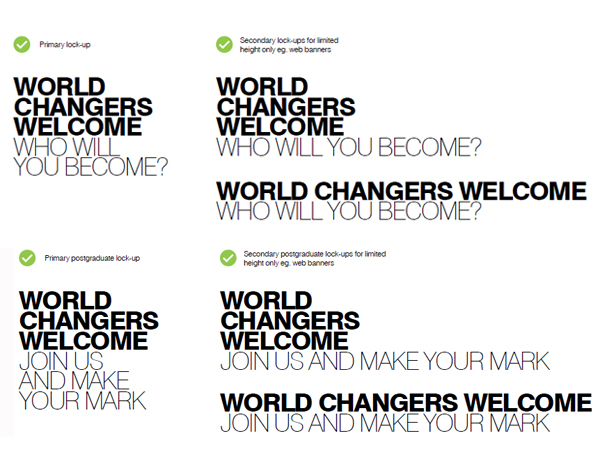 Student Recruitment Activity in Colleges
If you would like to produce materials using the World Changers Welcome branding, please contact your College Recruitment & Conversion Marketing Officer in the first instance:
College of Arts
Lee-Anne Mackay
Lee-Anne.Mackay@glasgow.ac.uk
College of Medical, Veterinary & Life Sciences
Phillip Stanley
Phillip.Stanley@glasgow.ac.uk
College of Science & Engineering
Fiona Dick
Fiona.Dick.2@glasgow.ac.uk
College of Social Sciences
Laura Macfadyen
Laura.Macfadyen@glasgow.ac.uk
Should you require any further guidance on the use and implementation of the World Changers Welcome branding, please contact the Recruitment Marketing team in External Relations:
mario-recruitmentmarketing@glasgow.ac.uk.