The University of Glasgow Services Strategy
Introduction
The purpose of the Services Strategy is to integrate efforts across all our Professional Services located in University Services and the four Colleges. It provides a common framework to support the delivery of institutional strategy and underpins the excellence of teaching, research, and the student experience at the University of Glasgow.
The Services Strategy is a key enabler for the University to deliver the institutional strategy, World-Changers Together: World-Changing Glasgow 2025, and the core thematic strategies – Learning & Teaching, Research, Innovation, Civic Engagement, Glasgow Green, and the International Strategy.
Our goal is to ensure that support for these activities and for strategy implementation is first-class in every respect. We want our services to be outstanding in terms of efficiency and effectiveness, and to work as one team regardless of which Service or College members of staff are based in.
To this end, we will judge our performance not only on the effectiveness of individual functions, but on how well the services collaborate to support front-line academic activities and the student experience. We are committed to developing systems and processes that are cost-effective, user focused and best in class.
At the same time, we aim to create an environment which attracts and retains the most able and ambitious professionals. We aspire to give every individual the opportunity to develop their full potential. The people-centred values embodied in World-Changers Together will govern our behaviours and be our guiding light as we work together for the good of the University.
The Services Strategy is owned and led by the Professional Services Group (PSG) which is responsible to Senior Management Group for ensuring service excellence.
Strategic Context
The strategic focus of University Services has continued to evolve since the last major re-design of structure in 2017. During this time, significant improvements have been made in the provision of services, including creation of new student-centric service experiences such as the James McCune Smith Learning Hub and Reach Out programmes. Over the same period, the shape and effectiveness of professional services in the Colleges has continued to evolve under the leadership of the Directors of Professional Services. Improvements have included the creation of centres of excellence, hubs of activity and new forms of collaboration across directorates to provide services that deliver the needs of students and academic staff in the most efficient and effective way.
Professional Services and our Service Directors across the institution work well together but there is an opportunity to do more.
As the University emerges from the Covid-19 pandemic and our students and staff return to a new reality, working patterns will undoubtedly be different and expectations even greater than before. Looking forward, we will be required to provide more integrated solutions. Students will increasingly expect greater coherence in the provision of services across IT and technology, physical services (such as libraries, sport and catering facilities) as well as access to the wealth of support services that enable a rich experience at the University. In taking this forward, we will benefit greatly from having a dedicated Transformation Office which understands the University well and is focused on a small number of impactful change projects.
This strategy focusses on the way in which all Professional Services prioritise and plan for the future. It spans functional boundaries and provides a foundation for the integration of end-to-end processes, activities and delivery of outcomes.
Why do we need a Services Strategy?
The Service Strategy will provide our Professional Services Directors with a framework setting out a common purpose. In particular, the Services Strategy will seek to:
Ensure we provide an outstanding and consistent quality of service
Continually seek ways to improve our services through collaboration across functions, Colleges and University Services.
Understand our cost drivers, efficiency, and scalability
Leverage the talents of our teams and support them to achieve the highest levels of professional capability
Inform and support budget discussions on the priorities for further investment to support growth and effective delivery of services over the short and long term.
Service Strategy Vision
Working together to deliver service excellence and enabling our academic missions to flourish
The key aim for Professional Services is to deliver service excellence across the breadth of our activities.
We will put the experience of the service user at the heart of our approach, and focus on delivering end-to end, integrated solutions.
Alongside this, we want to create the environment in which our people are provided with opportunities for growth and personal development.
Our Strategic Approach – The Three Pillars
Our strategy segments activity into three core pillars that contribute to delivery of the vision. Only by putting our people first, working together and creating efficiencies will we be able to deliver service excellence and achieve the Services Strategy vision.
People first
Recognising the talent we have today; building our capabilities to ensure we have the best people in place to drive us forward. Creating the pipeline of future service leaders.
The delivery of the Services Strategy relies on the engagement and involvement of our people. We will utilise and develop the talents of our staff and service teams, making equality, fairness and inclusion the hallmarks of our behaviour, in keeping with the University's People & OD strategy.
Working together
Working together across boundaries. Forging new ways of working by co-creating innovative service solutions.
We can only provide excellent services by working together. We will integrate our efforts, breaking down any internal or artificial boundaries and creating connected services that span across the University.
Efficiency and effectiveness
Continuously improving our service users' experience. Delivering efficient and effective services which creates value for our staff and students.
Delivering excellence across our Services means a continual focus on improving the user experience and anticipating their future needs. We will drive improvements in efficiency and effectiveness by looking ahead, understanding what our user needs are and planning for the future. We will invest and prioritise our resources to create value today and build the infrastructure needed for tomorrow.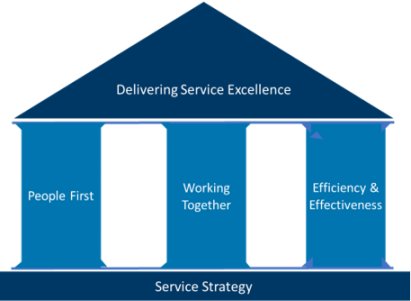 What will this approach mean?
Service excellence means providing services efficiently and effectively and in ways our users want to receive them. On the student side, this means creating seamless experiences that brings together the component parts of the student journey.
We will invest in our people, processes, and systems, putting our people first and keeping a clear focus on users across all Professional Services.
Invest in our people, processes, and systems
Focusing on efficiency and effectivenes
Creating a student and staff centric culture
Service excellence.
Building on our Values
The Services Strategy builds on the University's core set of values and makes them central to everything we do. These values are important to us because they define 'who we are' and 'how we do things'; they are shared by our students, staff, graduates, stakeholders and supporters.
The Services Strategy embody many of the University's values:
Ambition and Excellence
We strive for excellence through our work
We defend academic freedom globally
We recognise and celebrate shared success
We have an unrelenting focus on development.
Curiosity and Discovery
We innovate and solve problems together
We lead by influence and example
We engage with lifelong learning and personal development​
We learn from our mistakes.
Integrity and Truth
We uphold honesty, integrity and fairness​
We share our work widely and generously​
We do the right thing, not the easy thing – or we don't do it​
We take responsibility.
Inclusive Community
We are one Glasgow team and we care for and respect one another​
We advocate for diversity and believe in variety as a vital part of a healthy university​
We champion education as an engine for social progress
We practise and advance sustainability.
What are the risks we must manage?
The key risks facing this services strategy are:
Complexity and Agility: there is a risk that we add complexity to existing processes and as a result lose agility in our operations, ways of working and/or decision making. We will mitigate this by leveraging enabling technologies and or processes and replicating these across services. Examples for this would be expanding usage of some of our service platforms (e.g., Ivanti) or expanding already existing services (eg Reach Out).
Diverging Priorities: there is a risk that different services across University Services, Colleges and Schools pursue differing and competing priorities. To mitigate this, we will use the Professional Services Group to shape the prioritisation of efforts, looking for alignment and seeking investment to support similar goals that optimise service provision.
Affordability: the integration of services will require significant investment. The mitigation will be to use the enabling strategies to help align priorities and funding. Examples include using technology investment asks to align with improved service user experience.
Measuring and demonstrating impact
As part of our approach, we want to be able to measure and demonstrate our collective impact and the outcomes of our service strategy.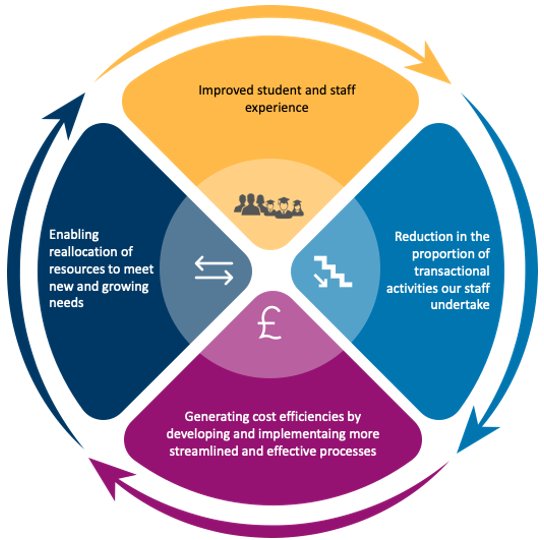 Delivering service excellence will drive an improved student and staff experience, reduce the proportion of transactional activities our staff undertake, develop and implement more streamlined and effective processes that enables reallocation of resources to meet new and growing needs.
To support this, we will consider the best way to collect data and insights to understand where improvements can be made to systems and/or processes, how best to measure performance and benefits, and how to evaluate success. Our Transformation and Planning Services will be critical to supporting our ability to do this. We will also explore options for benchmarking efficiency and effectiveness through Uniforum data or alternative ways of capturing service effectiveness.
Performance Measurement
How will we know if we are succeeding? Assessing performance across a broad agenda and a wide range of services is not a simple task. We will use a small number of indicators to measure progress.
Student surveys: We will utilise in-house and cross-sectoral surveys to measure the quality of the student experience and the impact our Professional Services have on it; these will be supplemented by feedback from the SRC and other student associations.
Staff surveys: Targeted staff surveys will be used to measure how members of staff feel about the quality of services we provide.
Academic leads: We will seek regular feedback from academic leaders across the Learning & Teaching, Research and Innovation portfolios on how well we are supporting strategy development and implementation.
Employee engagement: We will use the 6-monthly surveys conducted by people & OD to judge the levels of engagement we have achieved and the wellbeing of our Professional services community; this will be supplemented with feedback from the campus trade unions.
Financial and People data: We will monitor financial- and people-related data on a regular basis and benchmark our use and deployment of resources against comparator institutions.
Governance and strategic oversight
The Services Strategy is overseen by the Professional Services Group and will be a key starting point for PSG discussions.
The PSG's primary purpose is to coordinate the provision of services across the University in support of academic activities and the student experience. PSG is tasked with the development and delivery of the University Services strategy, budgets, and operating plans in alignment with the University Strategy as well as considering the distribution of professional support across both central services and Colleges.
Conclusion
To be effective, this Services Strategy must be more than fine words: it should be a living document that sets the direction of travel, defines the way we operate and focuses our services on continuous improvement. We will return repeatedly to the Three Pillars and consider how we are performing against them.
The University of Glasgow is a highly ambitious, world-changing, values-led institution; by embracing the agenda set out in this strategy, the Professional Services are committing to helping the University achieve its strategic goals. As we move forward, we are happy to be judged on our performance.