About us
Occupational Health (OH) aims to complement the University's academic reputation by providing a support service that promotes and preserves both the physical and mental wellbeing of all staff.
Working alongside our colleagues in the Safety and Environmental Protection Services we assist in ensuring that the work environment is safe and that a person's health is not adversely affected by their work activities.
The Occupational Health team comprises of a small team of our Occupational Health specialist doctor, nurses and adminstrative personnel who:
devise preventative strategies for identifying and controlling hazards to health arising from work
assist in fulfilling statutory and regulatory requirements to ensure that the health of staff and others is not adversely affected by their work
provide an employment health assessment process
provide pro-active management of sickness absence
ensure that work health issues are appropriately managed
Our team also provides specific services to medical, veterinary, dental and nursing students.
We provide an advisory service whose role is to provide impartial advice regarding fitness for work to line managers who are responsible for staff and monitoring and control of sickness absence. This advice is aimed at assisting employees to regain and retain their good health and return to a suitable job as soon as their recovery allows.
Occupational Health is located at 63 Oakfield Avenue. The map below illustrates the location of the Unit (E10 on campus map).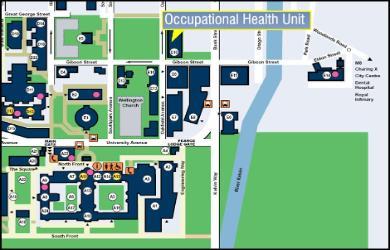 ‌
Services Available
Assessment and advice to individuals / line managers regarding ongoing fitness for work.
Advice relating to individual's concerns at work.
Health Surveillance
The Occupational Health Unit monitor the health of University employees who work in specific areas with specific hazards which may affect their health. This includes areas where people work with respiratory sensitisers and those working in noisy environments.
Treatment Services
The Occupational Health Unit is unable to provide a treatment service. All staff and students are advised to register with a GP close to where they live. The Barclay Medical Practice based in the Fraser Building can offer advice and treatment to those registered there and, in an emergency, to visitors and staff/students not registered.
Psychology and Psychiatry
Employees can be referred through one of the Occupational Health Advisers to either the University Psychological or Psychiatric Services.
Confidentiality and Health Records
The service strives to pay careful attention to consent and confidentiality of service users. Personally identifiable information about service users is accessible only within the OHU. OHU staff will not pass on personal information about service users to anyone outside the service without the express permission of the service user.
Your confidential Occupational Health records are kept securely and are accessed only by the Occupational Health staff. Your general Occupational Health Records are kept for six years after you leave/graduate and you are entitled to have a copy of this information if you request this. Your health surveillance records will be kept for forty years and radiation records for fifty years.