The Research Hub - how would you like to use it?
Published: 27 June 2018
Consultations on use of the Research Hub will be held over the next five weeks
‌‌In 2021, the University will open a new Research Hub building on the former Western Infirmary site in Glasgow.
One of the aims of the building is to catalyse new interdisciplinary partnerships by bringing together areas of the university that normally may not mix.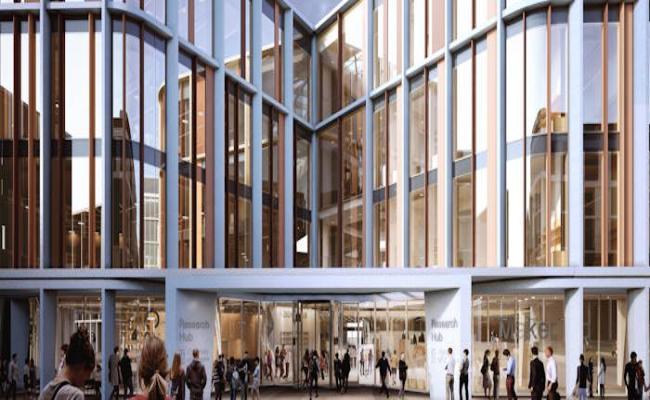 A key feature of this is the inclusion of spaces and facilities for those who may not be based in the building full-time - elements that will encourage everyone in the university community to take advantage of the new opportunities that the Research Hub will provide.
There is an entire workstream dedicated to this particular aspect of the building, and we'd like to hear from you on what sorts of spaces and facilities you might like to see in the Research Hub – what would make it useful for you?
The Research Hub provides an opportunity to consider what could help take your research and connectivity to the next level. Perhaps hot-desks that you could set up at for the whole day if you work at a remote campus? Collaboration rooms where you could set up for a week or two at a time to work on projects? Seminar rooms and exhibition spaces that would help showcase your research to the wider university and Glasgow community? Good coffee (obviously)? Something else entirely? We'd very much like to hear your perspectives on the Hub.
We'll be hosting consultations over the next five weeks and invite you to come along so we can provide a very brief overview of the new Hub, and get your thoughts on whether we're on the right track:
July 2, 10:00 - Urquhart Seminar Room, Urquhart Building, Garscube Campus (open to everyone)
July 2, 11:30 - McCall Lecture Theatre, McCall Building, Garscube Campus (open to everyone)
July 5, 15:30 - Gilchrist Seminar Room, Gilmorehill Campus (PGR students only)
July 17, 13:00 – Room 201, McIntyre Building, Gilmorehill Campus (open to everyone)
July 25, 13:00 – Fore Hall, Main Building, Gilmorehill Campus (open to everyone)
We understand it's a difficult time of year and people are very busy, so please feel free to send along any comments/questions in writing to Mary Ryan at Mary.Ryan@glasgow.ac.uk.
---
First published: 27 June 2018
Find out more