Exhibition to celebrate late Glasgow artist Hannah Frank
Issued: Mon, 29 Oct 2018 15:18:00 GMT
An exhibition celebrating the life of the late Glasgow artist Hannah Frank will open at the University Memorial Chapel on Monday, 19 Novembe‌‌‌‌r.‌‌‌‌‌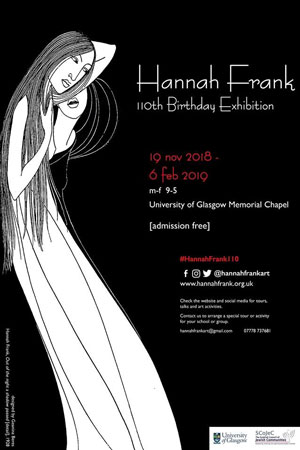 Frank was a student at the University of University and Glasgow School of Art in the 1920s and '30s, and she is recognised as a key figure in the Art Nouveau ("Glasgow Style") movement.
Her black and white drawings became popular throughout Glasgow in the latter part of the last century, with every Glasgow student having a "Hannah Frank" on their walls in the 1960s and 1970s.
The exhibition will display a variety of her drawings and sculptures, including some of her illustrations for GUM (Glasgow University Magazine). There will also be numerous workshops and talks from guest speakers throughout the exhibition, as well as weekly tours of the exhibition.
The exhibition will be open Monday to Friday, 9am to 5pm, until Wednesday 6 February, 2019.
Please visit www.hannahfrank.org.uk to find out more about the programme of talks and activities, or like our Facebook page www.facebook.com/hannahfrankart
---