Walking the Talk: Women Who Walk on BBC Radio 4
Issued: Fri, 05 Oct 2018 15:00:00 BST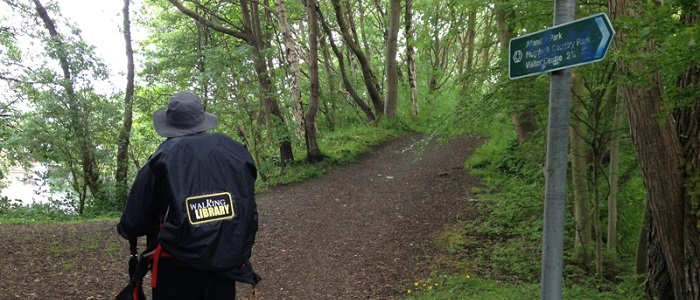 A University of Glasgow's professor is being showcased as part of a BBC Radio programme looking at women using walking as part of their art.
The programme forms an episode of BBC Radio 4 series The Art of Now, and "Women Who Walk" will be broadcast at 4pm on Monday 8 October.
It will feature Professor Dee Heddon who co-founded with Dr Misha Myers The Walking Library which draws on their shared interest in the relationship between reading, walking and writing.
Dee holds the James Arnott Chair in Drama at the University and is also the Dean of the Scottish Graduate School for Arts & Humanities. She has written extensively about walking and art.
The programme looks at what the apparently simple activity of walking means for the work these artists create, for the places they traverse, and for the way we think about cities and bodies, space and power.
The programme is devised by Dr Jo Norcup, an Honorary Researcher in the School of Geography at the University of Glasgow and is co-produced in association with Dr Norcup's Geography Workshop Production company.
Dr Norcup said: "Geography Workshop was established immediately after I completed my doctoral research at the University of Glasgow. Working with the diverse range of artistic, intellectual, and creative scholars I encounter via the School of Geography's Human Geography Research Group at the University of Glasgow assured me that wider public audiences would be interested in finding out more about the work of scholars and practitioners who advance ideas about the world and raises questions about how the world can be understood and experienced."
She added "Geography Workshop is committed to creating interesting, engaging scholarly-informed radio programmes that celebrate nuanced versions of the world and bringing voices that might otherwise be side-lined into the spotlight. I decided to create my own production company so that I could offer something different, to hear the voices of walking women artists and Women Who Walk."
In 2016, the first national Walking Women artist season was held in London and Edinburgh. Listener figures and feedback from programmes Geography Workshop and Resonance FM made around this was vindicated by the keen global online audience for programmes about women's artistic, intellectual and scientific work.
From these programmes, a pitch was submitted to BBC Radio 4, and Women Who Walk is the first Geography Workshop devised programme to be broadcast by the BBC.
Professor Dee Heddon said: "I am so pleased that Jo has made this programme. Too often women artists who use walking as their primary material are marginalised in the debates and discussions. This programme puts them in the centre of the landscape."
Professor Dee Heddon's latest project, The Walking Library for a Wild City, a collaboration with artist and poet Alec Finlay and commissioned for Glasgow 2018 European Championships, is represented in an exhibition and artists' book. The exhibition opens in Glasgow on 10 October at Govanhill Baths and the book is launched on 28 October The Hidden Gardens. Further details can be found here.
Narrated by comedian, writer, and actor Doon Mackichen, the full details of The Art of Now: Women Who Walk programme can be found on the BBC Radio 4 website here.
---