Academia Europaea honour for UofG academics
Issued: Tue, 02 Oct 2018 11:02:00 BST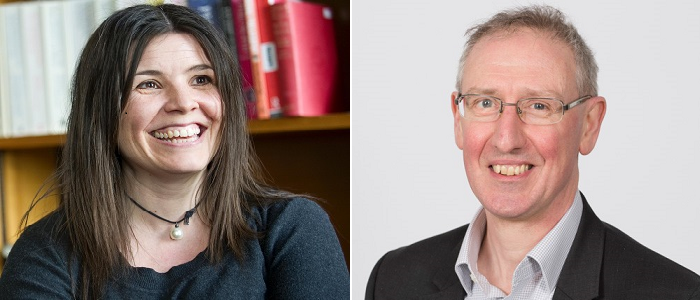 Two academics from the University of Glasgow have been elected to one of Europe's foremost research bodies, the Academia Europaea (Academy of Europe).
Professors Fiona Macpherson and Michael Syrotinski will join the Academia which is a functioning European Academy of Humanities, Letters and Sciences, composed of individual members..
Professor Macpherson is based at the School of Humanities | Sgoil nan Daonnachdan and is Professor of Philosophy and Director of the Centre for the Study of Perceptual Experience.
Professor Syrotinski is the Marshall Professor of French at the School of Modern Languages and Cultures.
Professor Roibeard Ó Maolalaigh, Vice Principal and Head of the College of Arts, said: "I am delighted that this honour has been bestowed on both Professor Macpherson and Professor Syrotinski. The Academia Europaea seeks to encourage the highest possible standards in scholarship and research. Both College of Arts professors have been elected on the strength of their international reputations in their respective fields."
Membership of the Academia Europaea is by invitation and made only after peer group nomination, scrutiny and confirmation as to the scholarship and eminence of the individual in their chosen field. Election is confirmed by the Council of the Academia.
Members are drawn from across the whole European continent. Members also include European scholars who are resident in other regions of the world. Current membership stands at around 4,000.
Amongst them are 72 Nobel Laureates, several of whom were elected to the Academia before they received the prize.
---