RSE Unlocking Ambition Enterprise Fellows announced
Issued: Wed, 04 Jul 2018 12:44:00 BST
Twenty of Scotland's most talented entrepreneurs eager to start up their business in Scotland have been announced as the inaugural RSE Unlocking Ambition Enterprise Fellows. Three will be hosted at the University of Glasgow.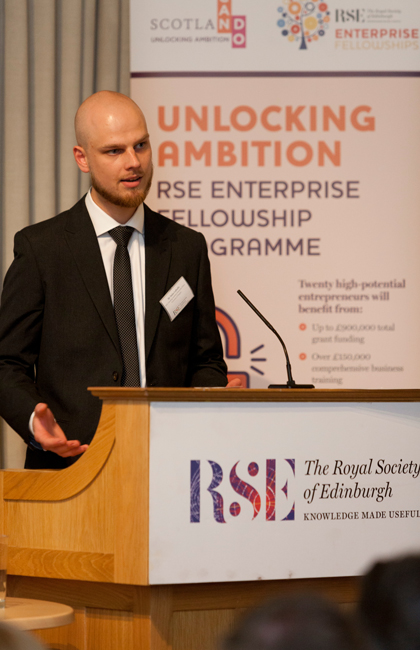 The £4m Unlocking Ambition Challenge is part of the Scotland CAN DO initiative, backed by the First Minister, Nicola Sturgeon. The programme provides funding support to 40 highly ambitious entrepreneurs chosen for their individual potential, the quality of their ideas and the contribution their companies can make to the Scottish economy and wider society.
There are two programmes within the Unlocking Ambition Challenge: both are focused on supporting innovative, purpose-driven entrepreneurs. The RSE Enterprise Fellowship programme is for 20 earlier stage start-ups who will be hosted by a number of Scottish Universities or Research Institutes led by the RSE and the SE programme - a scaling development programme for 20 successful SMEs is led by Scottish Enterprise.

The 20 RSE Unlocking Ambition Enterprise Fellows will benefit from a tailored business development training delivered to the highest standard of international excellence and significant business development budget enabling them to bring their propositions to market.
The three Ambitious Enterprise Fellows being hosted by the University of Glasgow are:
Joan Kangro – Kingdom. An autonomous gardening robot that can mow the lawn, remove weeds and collect leaves from your garden.
Tadas Labudis – Prodsight. Prodsight helps companies make well-informed product decisions by extracting actionable insights about customers' needs from support tickets.
Elijah Nazarzadeh – AcuWave. A novel acoustic pulmonary drug-delivery technology that enables precision therapeutics for established drugs and advanced nanomedicines for gene therapy.
Edward Cunningham CBE FRSE, Chairman, The Royal Society of Edinburgh Enterprise Fellowship Programme, said: "We have the potential and we have the ambition to enable innovation in Scotland's future investment and internationalisation. The RSE will draw upon our strengths and multidisciplinary expertise‎ to match the ambition and ingenuity of the Unlocking Ambition programme to work with our new Enterprise Fellows to develop and launch new businesses and help them become outstanding entrepreneurs."
---