EPSRC Centre for Doctoral Training holds annual conclave
Issued: Thu, 28 Jun 2018 14:32:00 BST
The Centre for Doctoral Training in Photonic Integration and Advanced Data Storage CDT, an exciting partnership between the University of Glasgow and Queen's University Belfast, held its third annual Conclave on June 20 and 21 at the GoGlasgow Hotel, Glasgow.
This year, the 2017 cohort intake were responsible for the event planning and execution of the conference, with support from the CDT management team. They gained experience of balance demands from their training programme, whilst successfully prescribing an impressive event.
The conference attracted more than 90 attendees – the biggest gathering for CDT PIADS' extended network to date. The meeting was vibrant, with representation from existing industry partners and networks, key CDT academics and the CDT cohort as a whole.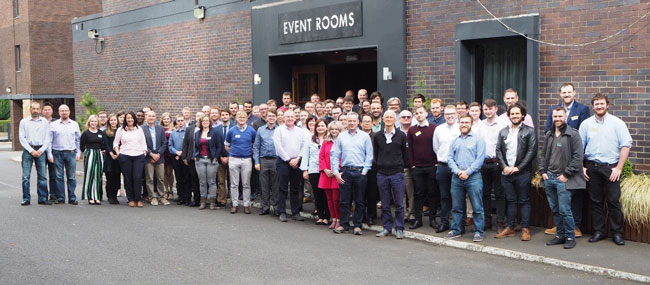 Ten out of the 17 incoming 2018 cohort students were also able to attend. They were able to network, experience the atmosphere of the CDT and enhance their understanding about the programme in advance of beginning their doctoral journey this September.
CDT PIADS proudly hosted established partners Seagate Technology, Compound Semiconductor Technologies Global, Kelvin Nanotechnology, Oxford Instruments Plasma Technology, IQE, FEI, the Knowledge Transfer Network, the Institute of Physics and recently acquired partners Technology Scotland, Axenic, Yelo, Fraunhofer Centre for Applied Photonics.
Professor Diana Huffaker, Director of the Institute for Compound Semiconductors, University of Cardiff, delivered an exceptional keynote address at the start of what was an exciting event, focusing on an update on her research portfolio and news on the Compound Semiconductor Applications Catapult.
The conference attracted financial sponsorship from the Institute of Physics Scotland and IOP National Officer Alison McLure was present to award £150 of prizes to CDT students Christopher Gough and Christopher Lambert, winners of the 2016 cohort student poster session.
PhD opportunity for 2018
There may be a single PhD Opportunity remaining for 2018 entry - for more information, please contact the CDT External Engagement Manager Caryn Hughes Caryn.Hughes@glasgow.ac.uk or visit the website, Twitter and Facebook.
The CDT, directed by Professor Robert Bowman (QUB) and Professor John Marsh (UoG) was established in 2014 with substantial investment from the Engineering and Physical Sciences Research Council (EPSRC) and will help to address a skills shortage in the photonics industry by educating 50-plus future scientists and engineers.
The CDT focuses on developing highly-manufacturable photonic integration technologies related to the magnetic storage of digital information. The development of these technologies will be relevant to a wide spectrum of end-users – from telecommunications to biophotonics, in which optical technologies are applied to living organisms and health care.
CDT PIADS is in the running for renewal in 2019.
---