Lady Marion Fraser - a tribute
Published: 16 January 2017
Tributes have been paid to Lady Marion Fraser, alumna and outstanding figure in the recent history of the University of Glasgow and post-war Scotland.
The University of Glasgow community is mourning Lady Marion Fraser, who died on Christmas Day at the age of 84.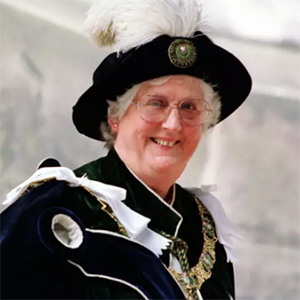 Born Marion Anne Forbes she was educated at the Hutcheson's Girls' Grammar School before attending the University of Glasgow in 1950 to study for an MA. Active in student politics, she was elected President of the Queen Margaret Union in 1953, standing on the ticket "Keep the Men's Union Board out of our Hair". In 1956, she married William Kerr Fraser, a former President of the Glasgow University Students' Representative Council and later Principal and Chancellor of the University of Glasgow.
"Mr Chancellor, I have very great pleasure in inviting you to confer the degree of Doctor of Laws upon a woman who represents the very highest traditions of the women graduates of this university, whom we are proud of and we love, Lady Fraser." Part of the oration when Lady Fraser was awarded an Honorary LLD degree by the UofG in 1995.
During the period her husband served as Vice Chancellor and Principal (1988-1995) she worked with tireless energy to foster a sense of community and family across the campus, a commitment she continued to fulfil during Sir William's subsequent time as Chancellor of the University. The University acknowledged her wide contribution to public life in conferring the honorary degree of Doctor of Laws in 1995 and following the extensive refurbishment and extension of the Hub/Refectory over 2007-09, it was renamed the Fraser Building in honour of Lady Marion and Sir William. As a student focused venue it was a fitting tribute to their abiding interest in and enthusiasm for the quality of student life.
You can read more about her distinguished life at The University of Glasgow Story on our own website.
And we are grateful to The Scotsman for permission to reproduce this obituary of a remarkable woman.
Lady Marion Fraser, former Lord High Commissioner to the General Assembly of the Church of Scotland. Born: 17 October 1932 in Glasgow. Died: 25 December 2016 in Edinburgh.
Lady Marion Fraser died on Christmas morning, aged 84. A significant figure across the Scottish voluntary and cultural sector, she was chair of Christian Aid. At the time of her death, she had the distinction of being the only woman from outside the Royal Family appointed to become a member of the Order of the Thistle, Scotland's highest chivalric order. Marion Anne Forbes was the only daughter of Bobby Forbes, a shopfloor electrical engineer with Weir's Pumps in Cathcart and Bessie, nee Watt, a teacher. They met as members of the renowned Glasgow Orpheus Choir. Music was at the heart of family life in Giffnock. Their daughter attended Hutcheson's Grammar School in Glasgow, and studied piano at the Royal Scottish Academy of Music and Drama. She went to Glasgow University, where she studied music and secured a Master of Arts degree.
There, she immersed herself in the social life of Queen Margaret Union, then the university's women's union, and rose to become its president. On graduating, she visited the USA, via the Experiment in International Living. In 1954, as Britain emerged from wartime austerity with tight currency controls still in place, this was a rare opportunity for foreign travel, learning by living with US families. It was to be perhaps her most significant formative experience. She was billeted at Maplewood Farm in Woodstock, Vermont, where Timmy and Tom Bourne, their family and neighbours opened her eyes to a new world of liberal, creative possibilities. Learning through travel would remain a passion.
Returning to Britain, she became engaged to Kerr Fraser, then an RAF flying officer on National Service. She had first encountered him at the age of three, as their mothers knew one another. Romance blossomed through the social life of Glasgow University. He had been president of the Student Representative Council. She was the younger student, and flattered by the dance invitations of this trainee lawyer. They were married in 1956. His legal career plans were diverted into the Civil Service, where he began a 32-year career in the Scottish Office.
Accomplished
The couple moved to Edinburgh, and between 1957 and 1964 had four children. Marion Fraser was sought after as an accomplished piano accompanist in Edinburgh's thriving youth music scene. Summer holidays were spent indulging her love of Scotland's north-west, at first in Arisaig, then to a cottage she owned in Barra, later replaced by one on Iona.
Kerr Fraser's civil service career was on the fast track. Aged 49, he was appointed to the most senior post in the Scottish Office, Permanent Under Secretary of State, splitting his time between Edinburgh and Dover House in Whitehall. This brought the titles of Sir William and Lady Fraser and new doors opened. Ten years later, in 1988, he became principal of the University of Glasgow.
Precedent pointed to an ill-defined expectation that a newly appointed principal would bring with him a wife who could carry out many of the social functions of the leadership role. The Principal's Lodging continued to be a place for lively academic, cultural and political debate around its large dining table. The hostess was a fine cook, and an inquisitive dinner companion. Through this period, she took much pleasure from getting to know foreign students at Glasgow, taking most care over those far from young families. However, living "over the shop" in the Principal's Lodging was not something she relished.
"Mother God"
In the early 1980s, with the family having left school and home, Lady Fraser found herself on the wrong side of the most fundamental change in post-war society. Whereas middle class women setting out in adult life in the 1950s were expected to be housewives, supporting their husbands' career, 25 years later the feminist revolution had redefined that role as defunct and discredited. She became interested in the movement while on the national board of the Church of Scotland Women's Guild, where the then president sparked a vigorous national debate on whether it was appropriate to pray to "Mother God".
Lady Fraser resolved to make sure she was not solely defined as either a wife or a mother, and set out to make her own mark in the new gender landscape. Among her distinctive skills was the ability to work a committee, which she often put down to her capacity for laughter and drawing out others to laugh with her. She chaired the group that set up the Friends of the Royal Scottish Academy, and joined the boards of Scottish Opera and Laurel Bank School in Glasgow. She became a member of the Kirk's Church and Nation Committee, at a time when its commentary on political issues of the 1980s was highly contentious. She served as a member of an ecumenical church group looking into housing need.
She would later chair Scottish Action on Mental Health and the Scottish Churches Architectural Heritage Trust, the Scottish International Piano Competition and Hadeel, a charity importing crafts from Palestine. When Christian Aid needed a new chair from outside the dominant male Anglican circles, the development group sought her out. She held the post from 1990 to 1997. It brought her back to that passion for learning through travel, this time in the field of international development. She toured as an ambassador to the partner church organisations in many countries that deliver Christian Aid's programmes in local communities, and reported back in speeches to numerous church and educational meetings across Scotland.
This senior post in church affairs would lead to a highly unusual Kirk-related appointment. The Queen appointed Lady Fraser to the ancient post of Lord High Commissioner to the General Assembly of the Church of Scotland – official representative of the monarch. For holders of the post, unlike any other royal appointment, this involves being resident in the Palace of Holyroodhouse for the week of the General Assembly.
"A lady in my own right"
As they entertain the great and the good and visit institutions and church-related service providers across Scotland, the Lord High Commissioner is treated in almost every respect as if they are monarch. Only one woman had been handed the role previously – Peggy Herbison, a former Labour MP. Like most others, this appointment was carried over to a second year. Subsequently, the Queen conferred the personal honour of making Marion Fraser a Lady of the Most Ancient and Noble Order of the Thistle. The Order has just 16 members apart from royalty. This gave her a new title of Lady Marion Fraser – "a lady in my own right". To her death, and with evident pride, she remained the only non-royal woman ever to have been installed.
For more than two decades, she battled – sometimes venting great frustration – through the pain and infirmity of both rheumatoid arthritis and the muscular affliction of myasthenia gravis. With her husband as carer, she continued to travel as long as her body would let her. A lifelong adventurer with different food cultures, she chose sushi for her final birthday party, in October. And knowing her time was limited, she pushed herself hard to attend most of the concerts in East Lothian's Lammermuir Festival. She remained cheerful to the end, joking with hospice staff, and enjoying the company of her family.
Lady Marion Fraser, of Gifford, East Lothian, died on 25 December 2016 at St Columba's Hospice, Edinburgh. She is survived by her husband Kerr, their children Graham, Andrew, Lindsey and Douglas, and six grandchildren.
You can view this tribute on the Scotsman's own website.
A memorial service is being held at St Giles' Cathedral in Edinburgh on 9 February at 11am.
---
First published: 16 January 2017