NSS performances celebrated
The School of Critical Studies/Theology and Religious Studies and the School of Veterinary Medicine were able to give their Christmas celebrations an extra boost this year after highly successful results in the latest NSS.
In the 2016 National Student Survey, the School of Veterinary Medicine was voted number 1 in the UK for Veterinary Science. Theology and Religious Studies was ranked joint first in the 2016 NSS.
The Senior Management Group at the University of Glasgow had passed on messages of congratulations and SMG members were on hand at both celebrations to pass on their personal thanks to the successful School teams.
Vet School
The Mary Stewart Building was a fitting venue for final year students and staff in the School of Veterinary Medicine to celebrate being top in the UK for veterinary science in the 2016 NSS, writes Sarah Chiodetto, Head of Administration.
The new £5.3M, 400-seat facility opened in March and provides a large flexible study/learning space, a café, a large seminar room, 10 tutorial rooms and a student shop. The facility has been warmly welcomed by students and staff across Garscube Campus. Final year students Ian Faux, Lucy Giles, Sarah Locke and Alison Robertson said it was great place to study with a choice of different areas to work in and a good atmosphere. Professor Neal Juster (Senior Vice-Principal and Deputy Vice Chancellor) hosted the celebratory event and highlighted the many positive and heartfelt comments from the class of 2016 about their experience in the University, in particular the fantastic community spirit in the School.
After the presentation Lucy Irvine and Erin Thomson, the School's student co-presidents, commented on being taught by leading clinicians and the good balance of thinking, doing and responsibility for clinical cases in final year. Jane Wild, BVMS5 administrator added that it was very rewarding working with the final year students and that graduation day was the highlight of the year when students' hard work paid off and they set out into their professional careers.
In closing the event Professor Ewan Cameron, Head of School, said that providing a fulfilling student experience was SVM's primary objective. He commented on the strong bond between students and staff and thanked academic colleagues in the School and its associated Research Institutes, School support staff and clinical scholars for their commitment and dedication to supporting the School's students.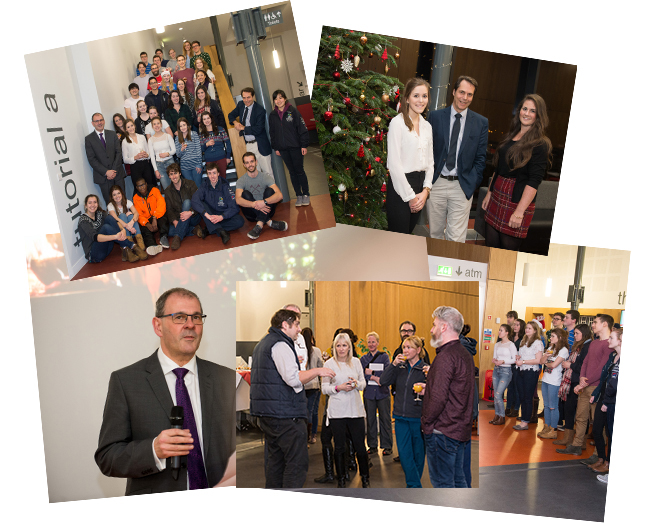 School of Critical Studies/Theology and Religious Studies
The School of Critical Studies/Theology and Religious Studies celebrated their NSS success on Tuesday 13 December with an informal reception at Number 4, The Square. Once again Senior Vice-Principal Neal Juster was on hand, with Head of the College of Arts, Professor Roibeard Ó Maolalaigh, to congratulate Senior Lecturer Dr Charlotte Methuen and her colleagues on their NSS success.
Neal Juster commented on the TRS students' enthusiastic comments about their lecturers, which, he said, pay tribute to the hard work of the whole team over the course of these students' time at Glasgow – not just the academics, but the administrators too – of which TRS can be justifiably proud. The current President of the Glasgow University Theology and Religious Studies Society, final year student Kirsty Muirhead, affirmed: 'From my very first contact at the open day to fourth year, TRS and Glasgow has been nothing but open, professional and dedicated. It has been a wonderful and supportive department to be part of.'
Professor Robby Ó Maolalaigh said: "The College of Arts continues to perform exceptionally well in the NSS with some of the highest results across the University. This is due to our inspiring staff and their dedication, working within a culture that places strong emphasis on the student experience. We are particularly proud of our colleagues in Theology and Religious Studies, the only subject area in the University to achieve a 100% response rate for overall satisfaction. Many congratulations to Charlotte as Head of Subject and her team for the resounding success of their effective action plans in ensuring a first-class experience for our students." Professor Jeremy Smith, Head of the School of Critical Studies (which includes TRS), also expressed his appreciation: "I am absolutely delighted at this accolade. Charlotte and her team, and our administrative colleagues who do so much to support our teaching, are to be congratulated on a fantastic job. Well done all of you!"
Charlotte Methuen thanked her colleagues and TRS's students for their engagement, which builds a real sense of community. She also expressed TRS's thanks to the University for their generous recognition for TRS's NSS result. This not only funded the reception, but also helped support a trip to Belfast for the Honours class in Sectarianism (jointly taught with the University of Edinburgh), and the seminar phase in Mainz for the Reformation International class (jointly taught with the University of Mainz). She hoped that these and other initiatives would complement TRS's already excellent teaching and further enhance the students' learning experience.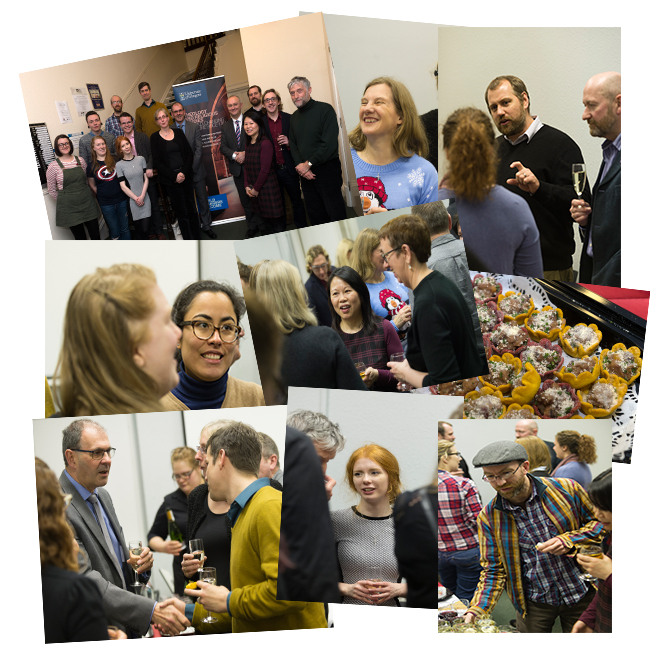 ---
First published: 10 January 2017