New ID Campus Card unveiled
‌Following the announcement of the roll-out of the University's new ID card – the Campus Card – the final design has now been revealed.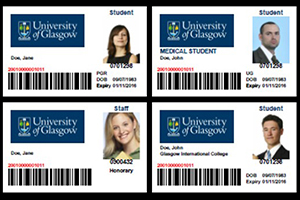 All UofG students and all members of staff based on the Gilmorehill, Garscube and Dumfries campuses will receive a new Campus Card. This includes Gilmorehill staff based at Tay House, Charing Cross. As well as replacing your existing staff or student card, your new Campus Card will offer greater security and provide the capability for a range of smart campus features to be introduced in future years. The card roll-out will begin in the coming weeks and all new cards should be distributed by the end of May.
While your new Campus Card may look similar to your existing ID card, you'll notice that the University crest is now framed by a blue box on the Campus Card. This is the easiest way to differentiate between your existing and new cards. Be sure to carry both cards with you once you receive your Campus Card – you will need to hold onto your existing card until the system switchover date in early June to gain access to the Library, sports facilities and pull printing system. The photo on your current ID card will be carried over to your new card. The photo cannot be changed at this stage.
This complex project involves replacing swipe or touch electronic access units at many locations. The University will post information at each of the locations where the upgrade has been completed and where the new Campus Card will be in operation. We will also issue additional information along with your new Campus Card.
Any questions? Get in touch with the Campus Card team at it-campuscard-team@glasgow.ac.uk
---
First published: 27 March 2017