UofG gets Cycle Friendly award
Staff and students at the University of Glasgow can celebrate receiving the top Cycle Friendly Campus Award, with distinction, from Cycling Scotland in recognition of their commitment to getting more staff and students cycling.
The award is delivered with funding from Transport Scotland and recognises the efforts of Scotland's colleges and universities that promote cycling as an accessible and convenient travel choice. It was presented to Viola Retzlaff, Travel and Transport Co-ordinator at the University, by Cycling Scotland's Paul Wright, in recognition of the outstanding level of commitment the University has shown to encourage cycling to, from and around campus.
The University has made great progress in achieving an increase of staff and students who choose to cycle to their place of work or study. The last survey indicated an increase of 2%, from 6% to 8%.
The University implemented a range of measures including ongoing improvement and extension of cycle parking facilities - with support from Cycling Scotland, delivery of bicycle maintenance workshops, Dr Bike sessions and cycling training events. Other activities include Social led rides and cycle training events and opening of a Bike Hub to be run by the Glasgow University Environmental and Sustainability Team.
Strength to strength
The University of Glasgow's Viola Retzlaff said: "We are delighted to have won the award, which reflects the work by the University to enhance the conditions on the campus for people who arrive by bicycle and to foster a cycling culture in all departments.
"In view of the changing estate and ambitious targets in the University's Strategic Travel and Transport Plan we are looking forward to continue our co-operation with Cycling Scotland to further improve on the criteria for the award."
Paul Wright, Cycling Scotland behaviour change manager said, "Cycling Scotland has worked closely with the University of Glasgow on working towards the Cycle Friendly Campus Award. The University has shown great commitment to getting more people cycling around campus and I am really pleased to present the award, with distinction. I look forward to working with the university in the future to ensure staff and students can continue to travel confidently and conveniently to the campus."
The Cycle Friendly Campus Award is run by Cycling Scotland with funding from Transport Scotland and recognises exemplar projects from Scotland's college and university campuses where cycling is a real and accessible part of campus life.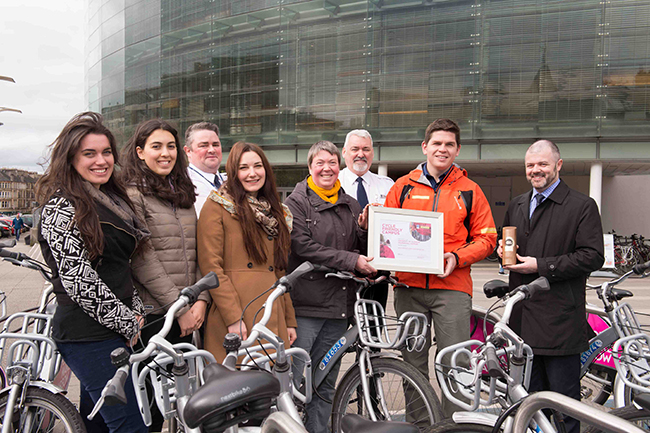 ---
First published: 10 April 2017