Delegation from Malawi visit UofG to strengthen ties
Issued: Tue, 26 Apr 2016 09:33:00 BST
A delegation from the University of Malawi's College of Medicine was welcomed to the University of Glasgow last week.
The representatives from Malawi, which included Malawi Minister of Health Dr Peter Kumpalume, spent the week meeting staff and students to help strengthen ties between the two institutes.
The visit was led by Professor Paul Garside of the Institute of Infection Immunity & Inflammation, and was designed to develop a Memorandum of Understanding between our two institutions to develop collaborations and further strengthen bonds.
During the visit delegates, who included Malawi's College of Medicine Principal Dr Mwapatsa Mipando, Dean of postgraduate studies & research Prof Victor Mwapasa, College registrar Mrs Longwe and College finance officer Mr Samson Kalulu, were met by Vice Principal & Head of the College of Medical Veterinary and Life Sciences Professor Anna Dominiczak.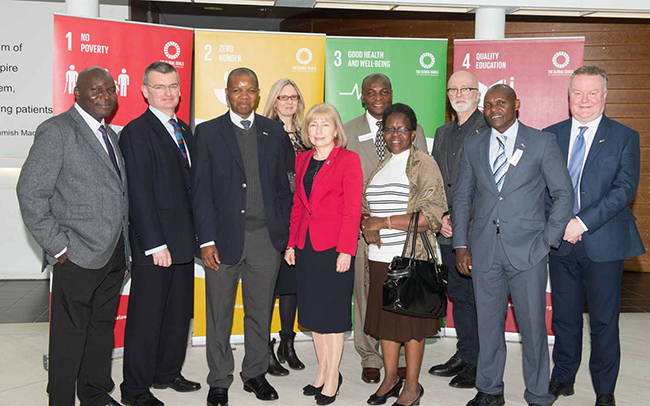 Professor Garside, who spent three months living and working in Malawi and has visited many times since his initial stay, said: "We were delighted to welcome the senior delegation from the University of Malawi College of Medicine to further strengthen and develop our burgeoning collaborations in research and teaching to combat the infectious and non-infectious disease challenges that we face in both of our countries."
During the week MVLS hosted a display of banners from the Scottish Malawi Partnership at the Wolfson Medical School to show support for and provide information about the United Nations 17 Global Goals initiative.
The delegation was also welcomed by staff from MVLS and University of Glasgow including Professor Iain McInnes, Director of III and Professor Andy Waters, Director of the Wellcome Trust Centre for Molecular Parasitology, which was the principal host of the delegation.
Professor McInnes said: "It is a great pleasure to host our friends from the College of Medicine in Malawi to Glasgow. Our warm conversations have reflected a collective vision that is ambitious for the future health of the people in Malawi.
"This will be best achieved in partnership, with benefits accruing not only in Malawi, but also here in Glasgow. I am enormously encouraged by the shared commitment to progress and the early recognition of practical steps that will start the journey upon which we must now embark."
Professor Waters said: "The visit represented the next phase of our ongoing joint initiative to develop training programmes, raise capacity and above all, collaborate at all levels necessary to improve local health scenarios."
Professor John Briggs, Clerk of Senate & Vice Principal said: We are delighted to welcome the delegation as this provides us with an opportunity to strengthen our collaborations with Malawi research colleagues even more".
The delegation was also joined by the Associate Director of the Malawi Liverpool Wellcome Trust Clinical Research Programme Dr Wilson Mandala.

---