World Changing Campus
Issued: Mon, 11 Apr 2016 11:23:00 BST
Western Infirmary site
The University of Glasgow has now formally taken over the site of the former Western Infirmary on the Dumbarton Road / Church Street / Byres Road side of the campus. This key site will now start playing an ever increasing role in the development of our World Changing Campus. Sadly it has now been necessary to end parking on the former hospital site.
Our world-changing campus will be developing on the site soon. For more information visit World Changing Campus
Water and gas supplies at Garscube
Mains water and gas supplies at the Garscube campus will be shutdown on Saturday 23 April from 8am to 4pm.
The buildings affected by this are: Ian Botham building , McRobert Building, Jarrett building , VRF,WSI, SMS building , Urquhart building, MRI, Henry Wellcome Building, Galloway building, McCall building, Mary Stewart building, James Heriot library, Campbell building, E&B and the mail room.
District Heating Scheme
The works associated with the University's District Heating Scheme are now largely completed. Some additional testing has been taking place to fine tune the network. The Combined Heat and Power 'engine' is now providing heat to the main campus buildings and also generating much of our electricity.
Crown House Technologies and everyone involved in this major project would like to thank YOU for your forbearance over the last year. During that time, the construction teams have laid five and a half kilometres of pipework and installed 24 kilometres of ducting for high-voltage and IT cables!
Please be aware that in all the buildings served by the district heating scheme, the hot water supply to taps will probably be at a higher temperature than in the past. Please take care.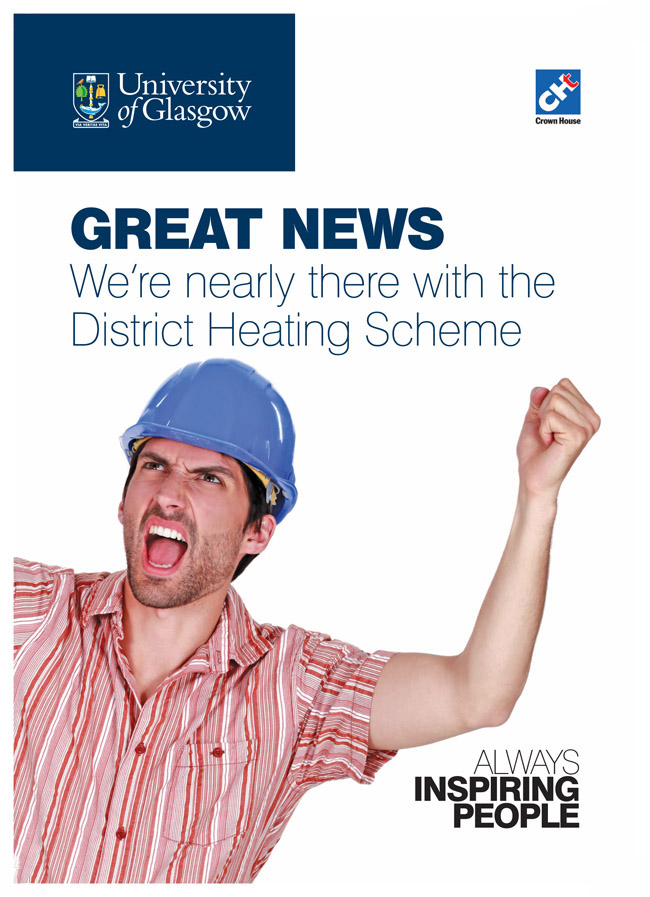 ---