Only one-way on your bike!
If you are using your bike around campus...do you know your way through the one-way street maze in our neighbourhood?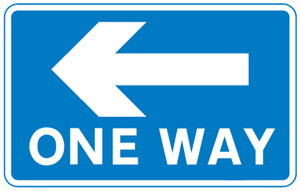 Earlier this year a pedestrian was badly injured by a cyclist going the wrong way down Hillhead Street, which runs northwards past the University Library.
Now a Cycle Safety map specially produced for UofG students and staff can keep you on the straight and narrow (and the right direction).
You can see the one-way system marked out on the district map. The University's Health and Safety and Security teams are keen to get the message over:the one way system applies to ALL road users on wheels, whether it's cars, motobikes and scooters, bicycles and even skateboards!
All the rules for cyclists are spelled out in the UK Highway Code
you have to obey all traffic signs and traffic signals
you have to stick to the one-way street system
red lights are for you, too! Don't try and go through them, even if you think it's safe.
however tempting, you cannot ride on the pavement or sidewalk
your bicycle has to be in good working order with reliable brakes and lights (front and back) and rear reflectors
you should be considerate of other road users
don't ride under the influence of drink or drugs (that means medicine too)
don't try to carry somebody on the back of your bike or try hanging on to another vehicle
you must give way to pedestrians
It's a lot of do's and dont's...but remember that there are two schools very close to the University with lots of children on the move in the morning and when they go home in the afternoon. Please think about their safety.
For your own safety, you should always wear a cycle helmet which conforms to current regulations, and reflective clothing. All clothing should be either close fitting or otherwise prevented from coming into contact with the chain, or a wheel or obscuring your lights.
Please take the time to have a look at the Highway Code if you are not familiar with it; and you can pick up copies of the map of the Gilmorehill / Hillhead street system from the Welcome Point in the John McIntyre building. Or print off this one!
Keep safe!
---
First published: 17 September 2015