UofG remembers Loos
The University last week remembered the 39 young men who died one hundred years ago during the Battle of Loos in the Great War. Of the 755 University men and women who fell over the course of the War, forty-two were lost during this single battle.
On Friday 25th, University staff, students and members of today's armed services gathered in the University's Memorial Chapel for a short service of remembrance. Short biographies of those who died at Loos were read out and afterwards those attending walked the short distance to the First World War memorial garden (by the memorial gates at University Avenue) where crosses were planted for each of the 23 who died on that day. A further fifteen were remembered yesterday (Monday, 28 September) and more WW1 commemorations will follow over the next few days.
Other events were also organised to recall the Battle of Loos in 1915: there was a one-hour lunchtime lecture by Dr Tony Pollard, Senior Lecturer in History and Battlefield Archaeology. And in the evening, in the University's Memorial Chapel, there were readings from First World War letters and diaries and the premiere of a specially commissioned piece of music, "From the Fallow Fields", by composer Drew Mulholland, who is an Honorary Research Fellow in the School of Geographical and Earth Sciences and an Honorary Research Associate in Physics and Astronomy.
First World War commemoration at the University of Glasgow
The Loos commemoration is part of the University's ongoing First World War Centenary programme of events. To keep up to date on centenary events and for WWI study resources, see: www.gla.ac.uk/ww1, follow @GlasgowUniWW1 on Twitter, and read Glasgow University's Great War project blog. Find out more about the members of the University of Glasgow community who fought in the First World War by exploring the online Roll of Honour.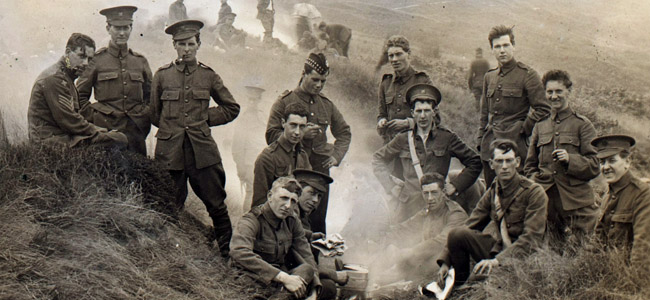 ---
First published: 22 September 2015